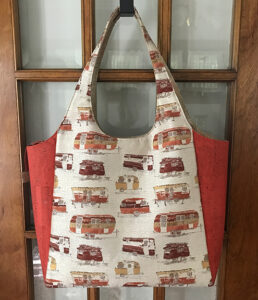 Now that we're five months into staying at home because of COVID-19, any memory of travel is precious. We don't want to get on a plane or walk through an airport or even travel by car longer than two hours (y'know, because of the need for bathroom stops). In mid-May, the travel trailer rental site RVshare had reported a 1,000% increase in travel trailer bookings since April, as cited by the Boston Globe.
I have to admit that my idea of roughing it involves a Marriott hotel, any Marriott hotel. I've tented before. I've camped in a pop-up trailer before. I didn't love those vacations. If I have to walk more than, say, fifteen feet in the middle of the night to get to a bathroom, I'm not going to be quick to sign on for that activity. But I know a great fabric print when I see it!
Besides, I'd rather stay home with my sewing machines.
My nextdoor neighbor is a textile designer for Richloom Fabrics, and works primarily with the RV and manufactured housing market. When she has extra samples of her textile designs, she graciously walks across the backyard and feeds my stash of bag-making fabrics.
I had seen this cool travel trailer print on fabric.com and fell in love with it the moment I saw it, having no idea that she had designed it. The next time she brought me a stack of samples, there were the travel trailers, right on top of the stack. I swooned. I couldn't wait to find the perfect bag pattern and cut into it.
My
previous blog post
documented the sewalong I participated in with fellow lovers of Sew Sweetness bag patterns. Once I signed up to participate, I knew this would be the perfect use for the travel trailer fabric.
The pictures accompanying this post were taken to coincide with the various stages of the sewalong. The first week, we gathered the pattern, fabrics, and notions (thread, zippers). The second week, we cut out the pattern pieces and fused the interfacing. If any quilting of fabrics was to be done, it would be done before cutting. The third week's assignment was to make the interior zippered pockets and prepare the main closure zipper for insertion by sewing on the zipper panels. If we wanted any extra pockets on the bag, now was the time to plan and create those. During the fourth week, we sewed the sides and bottoms and then finished the bag.
(See the previous post for an example of quilted side panels.) (If you're on Instagram, you can explore the tags #clydebanktote or #clydebanktotesewalong for more examples of this great tote pattern.)
The
Clydebank Tote
is a
free pattern
. It comes in two sizes—small – 9-1/2" long x 14" tall x 3" wide (24cm x 35.5cm x 7.6cm), and large – 13" long x 21-1/4" tall x 5" wide (33cm x 54cm x 12.7cm). I made the large for both my bags, and I could hardly fit it in my big photo cube to take the pictures. It has a million uses. You can even sew the handles front to back instead of side to side; it could be hooked over a wheelchair handle, or with added VELCRO® fasteners, hooked to a stroller or walker. Depending on your fabric choices, the large size could be a beach bag, an everything-you-need-for-a-road-trip bag, or could carry a lightweight sewing machine to a class, once those resume. What do I wish I had done differently in the construction of this bag? Well, those little zippered pockets. Rather than order another 14″ zipper for two interior zippered pockets the pattern specifies, I decided to use two of the shorter zippers I had purchased in Bali two years ago. What I ended up with was downsized pockets that are hard to get your fingers into. What can they be used for? I think a lipstick and a lip balm; your change, to keep it from getting lost in your wallet; your driver's license and other ID and a credit card, and a few bills, for when you don't want to take your entire wallet along; and so on. Honestly, when I realized how small those pockets turned out, I should have stopped right there, ordered another zipper, and done the pockets as suggested. Live and learn!
There are two important points about patterns designed by Sara Lawson: 1) She records instruction videos for all her patterns. If you are a visual learner, it's absolutely worth any extra charge to have her video nearby while you're sewing. 2) Sara knows how to write pattern instruction sheets. I had a long career as a technical writer; I know fine writing designed to help laypersons conquer a task. This is fine writing!
The fabrics and notions I used:
Richloom Fabrics upholstery fabric featuring travel trailers, from their RV and Manufactured Housing line;
Cork fabric for the exterior side panels, purchased from Sew Sweetness. I've purchased cork fabric from a number of different retailers, and the cork that Sara Lawson stocks on her Sew Sweetness site beats all the others, hands down. It's like sewing butter, and does not crack (as many cork fabrics do). If you want cork, go to Sara's site. (I believe this Coral is what I purchased, but it may have been the Candy Red or Brick. I just don't remember.);
Lining: Moda Grunge Basics from their GrungeGray line, the color is Maple Sugar. Search Etsy; most stockists are sold out.
Foam interfacing is Soft & Stable from byAnnie. Sara also stocks it on Sew Sweetness.
YKK zippers. I like ZipIt on Etsy or Sew Sweetness or byAnnie.
Purse feet from JoAnn's.
I have a little more of this great travel trailer print, and will be making some small zippered pouches as soon as I get some relief from mask making.
You can always check my Etsy site to see what's the latest hot-off-my-sewing-machine item.
Thanks for reading.
---
Clydebank Tote Photo Gallery