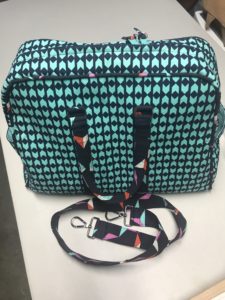 Three years ago I cut out and prepared the pattern pieces for a Swoon Vivian carry-on bag. I carefully and adeptly inserted the interior zippered pocket, when I realized I had placed it on the exterior. Rather than just go with the flow, I determine that fabric would become the lining rather than the exterior, and I would buy some more fabric for the exterior. I went to JoAnn's and got some navy cotton duck, and this became that bag. I used it a few times, then decided I didn't really love it. Little things were not right, but when I showed it to a friend and said I didn't want to keep it, she lovingly and willingly provided it a home.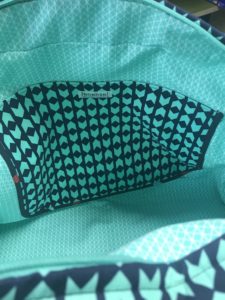 A few weeks ago, I found the pattern pieces I had cut out and never used, and decided to take that bag out of the Works-in-Progress stack. I think I followed the directions as written. The lining uses the drop-in lining method, which I don't care for. If I make this bag again, I think I'll leave the pocket bottom open and turn it through that hole.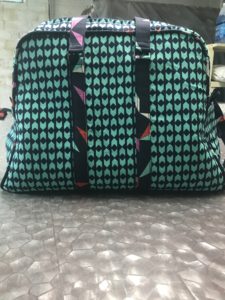 I planned to use the bag as my carry-on for a recent trip to Dallas to hang out with my son. Alas, I like to have lots of clothing options when I travel, even for a four-day trip, so it was to small for my needs. But the next time I head up to Lake Erie to our friends' lake house, this will be my go-to.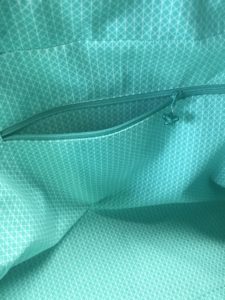 I used three different but coordinating prints from Cotton+Steel, when they were still being distributed by RJR. Pieces of this fabric can still be found on Etsy. I love the high quality that the C+S designers have insisted on for their fabrics. It has a wonderful hand to it, and lasts like, well, steel! My Spousal Equivalent didn't love the print I chose for the straps, handle, and piping, but I thought it added some pizzazz. I like the looks of the piping, and will keep attempting piped bags until someday when I can get it right!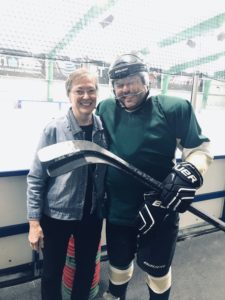 My son, who will turn 46 in a couple of months, plays "Beer League" hockey. I'd travel anywhere to watch him play. He lives in Lewisville, Texas, and plays on two teams. This game was in West Plano. The teams started together and ended together, which is what I tell my students when one of us messes up someplace in the middle of a song. All that matters is starting and ending together.