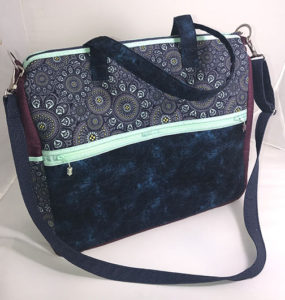 You probably know how I love trying new bag patterns, and how I love a bargain. Well, let me start this off by saying that I receive too many email newsletters (i.e. "come-ons") from fabric stores. One that I have liked over the years is Connecting Threads. They're located in Vancouver, Washington, and they have a beautiful, color-filled catalog that they occasionally send to my home for me to dream over. The trouble began when they had a sale. In their weekly newsletter, they offered me a kit to make a nice-looking bag for fifteen or twenty percent off the regular price. Okay, so they didn't offer it just to me, but I heard them calling my name.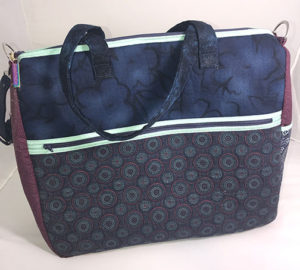 I answered the call and ordered the kit, which included all the fabric I would need and the pattern. The bag is called the "Surprise Bag." Why? Because, according to the pattern description, the designer was "surprised by how much it holds." As I'm writing this post, I've looked back at the pattern instructions and I notice, on page 2, a disclaimer by the Connecting Threads owners: "these patterns have not been independently tested by Connecting Threads." First error. If any of their bag-making customers or staff members had tried making this bag before it was added to the catalog and website, I'm pretty sure it would never have made the cut.
Before I move forward, let me remind you that I've made a lot of bags in my sewing lifetime. I may have made over a hundred bags. I've seen very good patterns. I've seen so-so patterns. I've never seen a pattern this odd.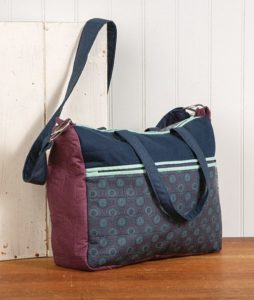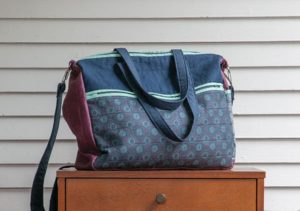 Now one of the main tenets by which I live is "be kind." And I hesitate to denigrate all the work the designer, "Sewing Sue," put into this bag. I'm sure she spent many hours designing the bag, making test versions, and documenting her work for the instruction sheet. But this bag is a major fail as it is written. It took me many hours of stitching and ripping, during the time in which I was having serious problems with my Bernina 330, to arrive at a finished bag. If I had not spent $30 or so on this bag kit, I probably would have thrown it in the trashcan. More than once.
See the two photos in the previous paragraph? So how beautifully that first bag is standing? That's the photo I saw before purchasing the bag kit. See how, in the second photo, the bag is slouching. It's the kind of bag to which Grandma would call out, "Stand up straight!" That's your first clue. A bag that is properly interfaced and reinforced should not slouch like that. At least this type of bag. A bag that's designed to be slouchy? Slouch all you want. Skimp on the interfacing. That's okay. This is not okay. Compare those two photos from Connecting Threads' website to the first two photos of my finished bag. Please tell me you can recognize the difference.
As I began reading the cutting instructions, I noticed the only fabric other than the quilting cotton was fusible fleece. Fleece interfacing is used in bag construction to give it some padding, to protect the items you're going to carry around inside. Fleece is for blankets and jackets, not for sturdy bags. I use Pellon SF101, tradename "ShapeFlex", to
give the bag some shape!
Sometimes I use fusible fleece along with the ShapeFlex, depending on whether the bag is going to carry my phone or my iPad. To
NOT
use ShapeFlex or a similar weight interfacing on a bag is asking for a disaster, for a useless bag. One other point: when I purchase fabric for a bag, it is high quality quilting cotton. It has some oomph to it. I do not buy a lower-priced soft cotton like I might use to make a blouse. I want my bags to last for years, to stand up to heavy useage. I pay more for my fabric and I get what I pay for. The fabric that came in this kit was not high quality quilting cotton.
It needed interfacing.
As I began cutting out the pattern pieces, I made sure to interface each one, in addition to the fleece that I fused to the pieces that called for fleece.That's the first Big Deal.
My second "What the Hell?" moment came when I made the zippered pockets on the outside. As I followed the designer's zipper insertion instructions, I had to sew and rip several times before I said to myself, "This will not do." I scratched my head, thought back to numerous (at least a hundred) zippers that I've installed, and made it work.
I continued on through the instructions, interrupted over the months by rehearsals for "Into the Woods" and voice students' lessons and performances and end-of-semester juries; by a quick road trip to Newport, Kentucky, to meet some of my closest cousins (per DNA); by the last-minute decision to go work at Interlochen Arts Camp in the dance department for three weeks; by the vagaries of my Bernina when it comes to bag construction; and by the decision, while at Interlochen, to take advantage of a Juki sewing machine sale at the Sew Deja Vu fabric store in Worthington, Ohio. Now I'm settled in with my new Juki TL-2010Q. It is a simple straight-stitch machine that is dedicated to bag making. And this bag maker is very happy. I have a couple of commissions waiting to be started, one for a Crews cousin in Georgia, and one for a musical friend in the next county over in Pennsylvania. Before I dug into those, I wanted to clean off my sewing table, which involved finishing up this "Surprise Bag." The state in which I had left it before I drove to northern Michigan was with the lining of the side panels half done. Why half done? Because I couldn't figure out what in the hell Sewing Sue's instructions meant. I stared at the bag repeatedly and finally fiddled around with the unsewn seam and some pins and hand sewed it in place. Then all that was left to do was the top edges where D-rings would be placed for connection to the adjustable strap. Again, I stared and fiddled and finally made it work. (Channeling Tim Gunn here. ❤️)
For the past few days, as I've been doing my mental wrangling with this bag, I wondered what I would do with it. Would I put it on my Etsy shop to hopefully sell? Would I just post it on Facebook for my friends to see and tell them the first person to make a $30 gift to their favorite charity could own the bag?
And last night I finished it and took pictures. The fall semester at YSU began yesterday, and now I'm in the throes of getting twenty or so singers ready for their auditions for the fall production of "Cabaret." I had always wished my music bag that I made about three years ago had a shoulder strap, but I never made that modification. And as I was finishing this bag yesterday, I realized that, as much as I detest this pattern and wonder about Sewing Sue's background as a bag designer, the description of this bag is correct. It's going to hold a whole lotta stuff! It's going to be able to carry my iPad Pro, my page-turn peddle, all my chargers, my semester organizer, and my music glasses (mid-range of my trifocals, designed to enable me to easily read the music on the music stand). One of the small pockets on the back can hold granola bars and other such snacks. The other small pocket can hold my iPhone. And when I'm walking in from the parking deck to Bliss Hall, I can either wear it crossbody or over my shoulder, using the great adjustable strap.
I traveled, really from yesterday morning to last night, from a despondency (Why did I waste so much time with this damned bag?) to Wow! (Look at this great new bag that's going to ease my life.) Sorry, all of my Facebook friends who thought they were going to get a great new bag for the price of charity. It's M*I*N*E!!!
P.S. Disclaimer: If I were choosing the fabric for this bag, would I have chosen this collection of fabrics? No, probably not. (Definitely not, when considering the "hand" of this collection.) I'd love to see a similar bag in a couple of companion batiks, even those batiks I brought back from Bali last year. But this was a learning exercise, so it is what it is. And what it was was a very painful learning exercise. But I survived. Oh, and let me repeat, "It's M*I*N*E!"
Edited 9/13/2019, after using this bag to carry all my collaborative pianist "equipment" in it for almost a month. I LOVE the size, shape, and capacity of this bag. I still can't recommend anyone use this pattern, but if you're a wannabe bag pattern designer, figure out how to make this bag without the wonky side pieces, with more logical zipper instructions, and with all the extra interfacing and foam I used in mine, and you'll have a winner.