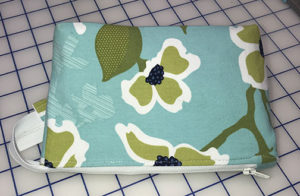 As I started writing this post featuring my newest bag-make, I wondered where Sara Lawson, the owner and bag-designer of Sew Sweetness Patterns, got the name Paladin. Google tells me that, over time, it has come to refer to high-level officials in imperial, majestic and royal courts. Here's my spin—high-level court officials need to keep a lot of information under wraps, to not let their subjects know what's going on behind the scenes. Paladin hides three pockets under one zipper, giving you a lot more room than you think you have when you first pick up the bag. It's a handy little—or not-so-little—bag. The pattern comes in three sizes: small–7" long x 5" tall x 2½" deep, medium–9" long x 6½" tall x 3" deep, and large–10½" long x 8" tall x 3½" deep.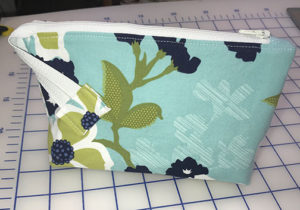 I put the Paladin Pouch together in 15 minute snatches of time during a two-three week period when I was in final preparations for a cabaret show with about 20 musical theatre students, a three-rehearsal gig for a semi-staged version of "South Pacific," and near-final rehearsals for "Cabaret," along with keeping up with the repertoire and rehearsal needs of my eleven students, musical theatre or classical voice students at the local university. I didn't sit down and watch Sara's entire video, which would have helped. I didn't sit and read through the pattern before starting. I just cut, fused, and sewed. I made a couple of mistakes, but it's done and it's okay.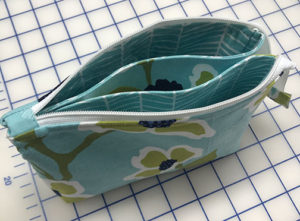 The bag has three pockets that are contained under one long zipper that extends beyond the edge of the bag, giving you the ability to open the bag wide so you can access everything in all three pockets. The middle pocket has a clever bit of stitching that makes it a smaller pocket. You can put change or a lipstick or some folded paper money or coins in that pocket. It's a versatile design!
I will make the two larger sizes once I'm out from under the workload I'm currently carrying. These would be nice holiday gifts for shoppers to buy. I have a stash of great fabric that will make them good additions to a couple of consignment shops near me.
The fabric in this bag is designed by Joel Dewberry for Free Spirit. I believe the collection is Modern Meadow. The exterior fabric is Dogwood Bloom; the lining fabric is Herringbone. The color name for both is Pond. You can find several vendors on Etsy who still carry this fabric. Or you can search for it on Google and find a few shops who have done a good job with populating their fabric databases. 😉 (Once a geek, always a geek.)
I'll enjoy using or gifting this bag, and will look forward to a freer schedule so I can make more.