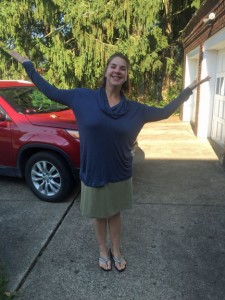 While I was at camp, there was barely a minute to spare. I thought I was going to be able to volunteer in the costume shop and help them out with stitching. I brought my current knitting project and a couple of sewing projects, along with my beloved Bernina, and didn't have nearly as much handcraft fun as I thought I would.
So you can imagine that I'm happy to be home and back in my sewing room. The Lovely Lady Leslie spent a few days in Youngstown after camp, and I was able to sit her down in my sewing room—instead of long distance—and show her patterns and fabrics and determine what would work for her and what wouldn't.
Before she left this morning to drive back to Amarillo, I was able to quickly make a top for her out of a rayon jersey (sort of a steel blue, although Gorgeous Fabrics called it "Blue rain") that we both loved. (Long sold-out at
Gorgeous Fabrics.
Pretty sure it's been hanging out in my stash since November of 2013. 😮 )
I used McCall's 7020, which I used twice for camp tops. And what a difference a fiber can make! I never loved it in the cotton I got from Mood for my top. It felt wimply. I liked the look of the top itself on me, but could have chosen a better fabric if I lived in a town where I could pet fabric! Made up for Leslie in this is drapey rayon jersey, I think the result was much better. That gorgeous cowl collar will drape much more nicely, and I think she'll get a lot of wear out of this.
<Sidenote On>
One morning at breakfast in the dining hall, I sat down next to Emily, who is the host in the Minnesota Building, down on the lakefront. She complimented me on the top, and I replied, "Thank you. I made it." She observed that it looked very "Eileen Fisher." That made my day!!!
<Sidenote Off>
I goofed a couple of times on this top and could kick myself. I topstitch the center front and center back seams with a double needle with wooly nylon in the bobbin. But when I trimmed the excess seam allowance away, I—ohmygodnononono!—cut the fabric. TWICE. Okay, so one was just a little nick. But the other was a four-inch gash!!!!! Fortunately both oopsies were close to the hem, so I pressed fusible interfacing to the wrong side and stitched a few more of the double needle topstitching lines over the problems. (I hand-stitched the gash closed first, then fused over it.) If Leslie doesn't read this, she'll never know. Even if she reads this, she may never be able to find my fix. I hope. It certainly won't affect her wearing of the garment.
Otherwise, nothing unusual about this project. I did spray the wrong side of the CF and CB seams with starch and press them before topstitching, to give them more body while stitching. That left a starch residue on the garment, so last night I washed it in the machine with a couple of bath towels to try to remove the residue. Success! I normally wouldn't dry a rayon jersey, but the collar and collar seams are bulky on this garment, so I put it in the dryer for about 15 minutes before finishing the hem.
Did my normal interfaced hem trick: Both hems (bottom and sleeves) were 1¼" deep, so I cut several strips of fusible tricot interfacing, which I fuse to the wrong side of the edge of the hem allowances. When I fold it to the inside and press, I have a clean fold on the hem, and sufficient body to support the double-needle topstitching for the hem finish. I think Marcy Tilton taught me that, and I am forever grateful.
---
And I'm baaaack!