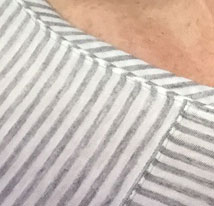 Am I ready for next week's Bali Fiber Tour? No, I am not. I have several pieces of fabric to make into cute tops, and I think they will not be made before I leave. And you know how obsessive I get about my travel wardrobes.
What happened, you might ask. Life and school happened. Back in March I had six mini-opera performances, preceded by several rehearsals. And I accompanied and played in the pit for seven performances of My Fair Lady in Sharpsville, PA. Then there was Cosi fan Tutte at YSU, which has taken part of five days of each week since mid-January. We finished Cosi the 24th of April. Then there was a senior recital to accompany for a trombonist. His program included a Very Nasty Hindemith sonata. Then, right on target, I got the text from my brother than our mother was failing, so the first week of May I spent two days driving to and from Hendersonville, NC; a couple of hours practicing with all my voice students for their juries; one day playing for juries; and then on Friday I flew to Vegas and drove to Kingman, Arizona, where I met my new sister. (If you're not up-to-date on this tale, it's written here).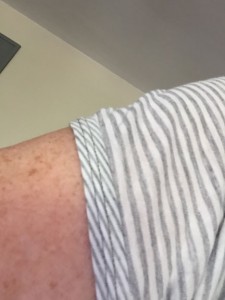 One of the sweetest two hours of that crazy week was the opportunity to substitute for the Stambaugh Chorus accompanist and play the Fauré Requiem with them, a precious-to-me work that was sung at my late husband's memorial service eighteen years ago.
So … insanity around here.
But I managed to scrounge up fifteen minutes here and an hour there over the past 10 days to finish one top for the trip. The pattern is McCall's 7020, which I've made three times already. Those posts are here.
The fabric was one of
MarcyTilton.com
's "Cool Combos." Marcy's exquisitely curated site makes some really fabulous fabrics available to the home sewist. The combo I picked up was gray and white – a quarter inch stripe, a skinny stripe, both in very lightweight jersey. Then a heavier jersey printed with small white dots. I decided to use just the stripes for this top. Both fronts and one back were made from the wider stripe, the other back and the sleeves from the skinny stripe. And they were alternated horizontal/vertical on each piece—i.e. right front and left back stripes go up and down, left front and right back go side to side. This was not a knit with a lot of give, so when I tried it on after applying the sleeves and sewing the side seams, the sleeves were too tight. I tried taking a narrower seam allowance, but they were still too tight. So I just cut the sleeves off, leaving 1″ of sleeve fabric. Then I cut ⅜" strips of fusible tricot interfacing, fused it on, folded, pressed, and double-needle topstitched. The hem was finished with the same method, 1¼"
I love it. What do you think?
And it's super-duper cool for the heat and humidity of my Bali adventure. My flight lands in Depensar on Saturday afternoon, May 21.