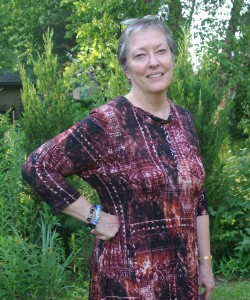 Finally! I was able to sneak fifteen minutes here and a half hour there over the past week and get a tunic top made, clearing one piece of yardage out of my stash. I've rescheduled my life for the next school year, and will have three weeks in a row mostly to myself in late July/early August, along with a two-day workweek throughout the school year. My goal for the summer is to reorganize my sewing room with a major declutter. But this accomplishment—the new top which I finished today—just whetted my appetite. That was sorely needed!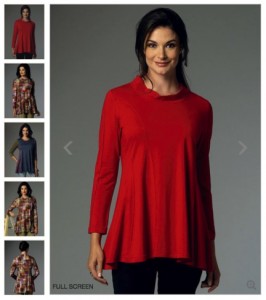 The pattern is Butterick 6136, another drapey, flowy tunic from Katherine Tilton's marvelous brain and imagination.
The fabric is a rare acquisition from JoAnn's. (Rare means I rarely buy fabric there—it doesn't live up to my quality standards.) I really can't even remember why I bought it. I must have had some event or trip that I wanted a new top for, and then it didn't happen in time. It's a rayon/lycra blend with what is referred to as a "wet hand." I don't really know how to define that for you, except to say it kinda feels like it's wet when you touch it. I imagine I'll get some comments here to clarify that. I love the colors in this print—black, brown, rust, deep red, and a touch of olive green or teal tucked in here and there.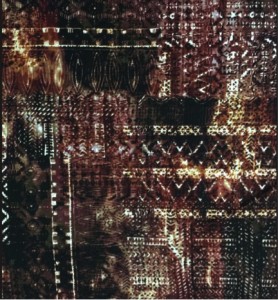 The photo from JoAnn's website does not show the colors well.
What should I have done differently. Well, this fabric has a lot of stretch. The pattern envelope wants the sewist to choose a knit with just over 25% stretch. Grab ahold of the fabric with your thumb and forefinger, hands held 4″ apart. Stretch the fabric. It should stretch another 1¼". This fabric easily stretches three more inches. Walking backwards through the cobwebs of my mind, I remember the Stretch & Sew classes I took when my boys were two and four years old and I made all their little tee shirts and pull-on shorts. If your fabric has more stretch than the pattern calls for, you want to go down a size or two—depending on the amount of extra stretch.
With this pattern and this fabric, I should have cut a 14 instead of a 16. Because I didn't, the tunic hangs loosely on me. I think that will just make it cooler in the few really hot days we have every summer. At least that's how I'm going to justify what I did.
I actually made a 3″ box pleat in the middle of the back, around the bra line. It shouldn't really show, as drapey as this fabric is, and it should pull out some of the excess.
(After writing all this and after dressing for dinner, I ran downstairs and took another 2″ out of the left and right side seams at about the line of the bottom of my bra. Better. Not perfect. But not so tent-like.)
And next time I'll cut a smaller size.
But now I have a new top to wear out to dinner with friends tonight. And that makes me happy.