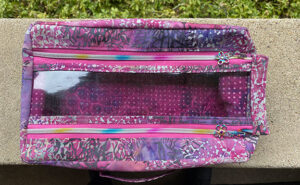 How awful is it that I haven't posted a new make in almost six months?! That's just terrible! Well, in my defense, there was a bit of a sandstorm in my basement sewing room that coated every surface with concrete dust. I've gotten half the room cleaned up, but there are still a lot of surfaces that need to be cleaned and fabric that will have to be washed. If you look at the pictures on this page, you'll get an idea of what happened.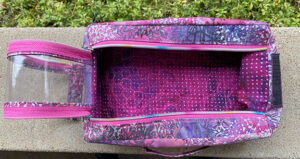 But I needed a mental break and was able to grab an hour (or maybe a little more 😉 ) on three different days to make this Sew Sweetness Vacation Packing Cube for my youngest granddaughter. Tyler, his wife Leslie, and Leslie's daughter, Caroline, drove down from their new home in Interlochen, MI, at Christmas. The primary impetus for the trip was the 90th birthday of Tyler's college mentor, Dr. Ron Gould. But while spending three days with me, the kids and I got to spend time with my eldest two grands, Celeste and Cody. We played games, ate, worked on a new jigsaw puzzle, ate, and just generally had a lot of enjoyable bonding time together.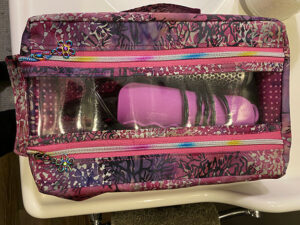 I noticed that Caroline carried her brushes and curling iron loose to the bathroom to do her hair, and I thought she might like a special bag to hold them when she traveled. On the last few trips I've taken, I had to search around for something to hold my similar items. I didn't like the idea of the brushes' bristles getting caught in my sweaters. I had been thinking of making a similar bag for myself when I found a padded bag in my basement bag stash. I used that on our January cruise to the Eastern Caribbean, but I didn't love it. It took up too much space.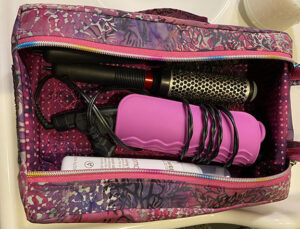 I made three packing cubes for myself two years ago, and I use them every time I travel. I have a large Eagle Creek soft-sided suitcase that I love and use every time we go on a cruise. Those three packing cubes hold all the clothes I need for a 7-day cruise, and leave just enough room in the suitcase for my shoes and toiletries. It thought that bag would be perfect for Caroline's hair things. But if I used the mesh panel, it wouldn't protect anything in the suitcase from the bristles.
I really thought I was being brilliant to think of using vinyl instead of mesh for the zipper panel. Then, when I looked at the Sew Sweetness blog post (above), I realized I was not the first person to think of this modification. Oh, well.
I had a hot pink zipper-by-the-yard with rainbow coils and flower pulls, and thought Caroline would get a kick out of that. Luckily, I had two different coordinating batiks in my stash that went perfectly with the zipper.
I cut the bag pieces an inch wider than the Small size pattern to ensure that the curling iron would fit in. When I tested the size after completion, there's plenty of room for more brushes or a container of mousse or hairspray or shampoo. Everything in one place. And the bag is soft, so if all she wants to put in it is the curling iron, it will smoosh down to fit in the available space in her suitcase or carry-on bag. 👍
The only other change I made was to quilt the bottom exterior panel to some Insul-Bright Insulating Thermal Lining. This would protect the bag and the surface on which it was placed if Caroline had to put the curling iron away in a rush. I also told her mom about the heat resistant mat I have and suggested Caroline might like to have one. I found mine in Walgreen's in Traverse City five years ago when I was spending three summer weeks playing for dance classes at Interlochen Arts Camp. The one I have is made by OXO, but they may have discontinued production of these items. Here's a similar mat on Amazon.
With the combination of the heat resistant mat and the insulated bottom of the bag, Caroline's belongings will be safe if she has to finish packing and rush out the door while the curling iron is still warm.
The only major error I made in this construction was to cut the exterior back out before deciding to quilt it to the insulation. Quilting any fabric to foam or insulation draws it up so the finished piece is smaller than the dimensions you cut. Ugh. I kept thinking I could work around that smaller back piece, but it was going to make the pieces of this puzzle not fit together properly. So on the last day, I cut another piece of fabric an inch or so larger all the way around, and another piece of insulation, and did the quilting all over again. Once quilted and trimmed to the right dimensions, the bag went together beautifully.
Today I'll pack it up and ship it to Caroline, and then hope I can find some time in the next three months to make one for myself before we fly to Seattle to cruise to Alaska and explore Denali National Park.
I do love the time I get to spend in my sewing room, even if half of the space is still dust-covered. Maybe before I make a second bag, I should find some time to finish cleaning that room.