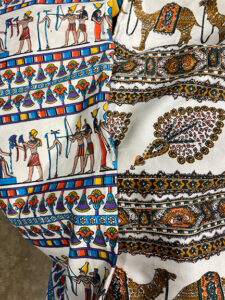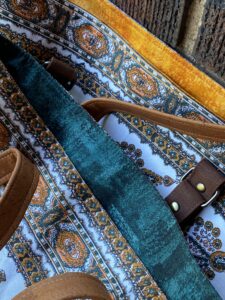 The whole time I've been testing crossbody bag patterns, I was thinking about the circus fabric my cousin gave me. I knew I wanted to make tote bags out of the elephant fabric, as there was much less of that fabric, and I needed to stretch it to make three bags.
Hmmm, now that I'm looking at these two fabrics again, I don't even know why I have envisioned it as circus fabric in my head. I don't even know what to call it, but I sure love those colors!
Anyway, I used the Tourist Tote Bag pattern from Sew Many Creations. To get three bags out of the elephant yardage, the widest any bag could be was 17″. I figured out the ratio of 17″ to the width of the bag in the pattern, and those were the dimensions I used.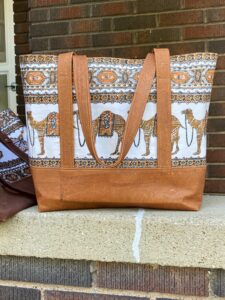 This is the first bag I made from this fabric. The base is a cork fabric from SallieTomato. It sews like "buttah"!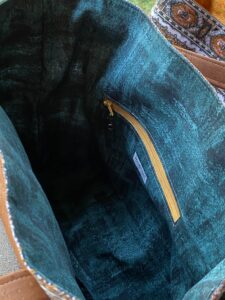 The lining was a teal quilting cotton that perfectly matched the teal in the print.
The bag pattern doesn't call for any pockets, but I can't stand totes with no pockets, so I added a zippered pocket in the back of the interior.
Honestly, this is such a great pattern. If you're a beginner sewist and are wanting to learn some bagmaking, you couldn't go wrong beginning with this pattern. Or if you're experienced and just need a quick gift for a special occasion, this PDF pattern should be your go-to.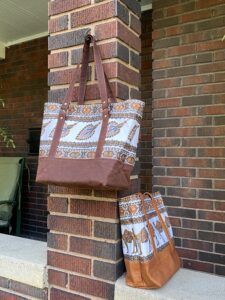 Here's the second bag. This is made out of a 10 oz. waxed cotton canvas, which is water resistant. I've been making waxed canvas bags this summer in an Intermediate Bagmaking Class offered by Ellie Lum of Klumhouse Patterns. That was a 12 oz. Canvas, and stands up beautifully. That's what I thought this bag would do, but I was wrong. So I used some plastic needlework canvas and made a false bottom to lay into this bag to help it stand up better.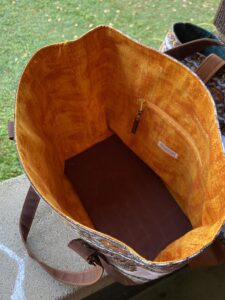 And here's the lining. You can see the bonus zippered pocket and the false bottom in the bag.
Honestly, I love how these two bags turned out, and can't wait to start the third one when I get home from vacation.