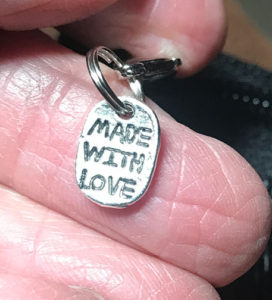 Baby Boy (okay, so he's 45!) has been traveling much more in his life lately, including several trips overseas. Years ago I made zippered "Pet Mesh" bags to hold the charging cords for their various electronic devices. A couple of weeks ago, after his Christmas/New Years/Wife's Birthday trip to Austria and Italy, Dear Son #2 asked for a new bag that had greater depth for holding his international converters. And a new bag was born, at his request. There's no greater compliment than your own child asking for a new bag!!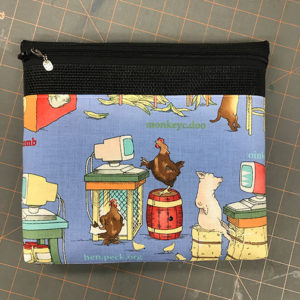 The pattern I use for such bags is the "Zip It" bag pattern from Nancy Ota. The Sew Thankful retail website carries the bag pattern, along with various colors of Phifer Pet Mesh. I buy my pet mesh in black from Lowe's or Home Depot—I believe it's cheaper, and I really like the basic black.
So the only trick to tell you about with this bag is how to give it more depth. I've been sewing a lot of bags lately, mostly designed by Sara Lawson for her Sew Sweetness pattern line. Sara is an absolute genius both in designing bags and in writing pattern instructions. She also makes videos for most, if not all, of her designs. So there's no way you can fail at making one of her bags. And, the more different patterns you try, the more you learn about bagmaking. So figuring out how to give my son the depth he wanted in the bag was just a matter of reviewing couple of Sara's patterns and "hacking" Nancy Ota's Zip It pattern.
A boxed corner would give my son exactly what he wanted, I was sure. I sewed the pattern as written, then zig-zagged the inside raw edges, instead of binding. Leaving the bag wrongside out, after zig-zagging, I flatted out each bottom corner, forming a triangle of the corner with the side seam centered, and sewed a diagonal seam across, about an inch or so down from the corner. It looked sorta like this /_\ , the bottom line being the seam. When those two seams were done, I cut off the excess, leaving about ¼" raw edge on the outside of the seam. I then zig-zagged that raw edge, and turned the bag rightside out.
My son said it's perfect! (He's a good boy. 😉)
-The fabric is from the very bottom of my stash, purchased at Josephine's in Portland around 2000 or earlier. It's from the DeLeon Design Group.
-My Pipher Pet Mesh was purchased on a roll from Lowe's or Home Depot in the screening aisle. Also see the Sew Thankful site (link above) if you want colored pet mesh.
-The zipper is from Zip It on Etsy. Great vendor!! Wide variety of zippers, great prices, fast shipping.
-The pull charm is from JoAnn's in the jewelry aisle.
-The hardware to hook the charm to the zipper pull is from Emmaline Bags in British Columbia. She has the very best selection of bag hardware. It costs me a smidge more and shipping takes a few days longer, but I absolutely love her stock. I frequently use her "Handmade" zipper pull charms.
(I'm going to put this here, just in case you want a piece of that fabric – different colorway.)