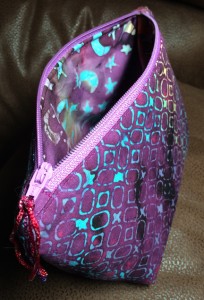 For most of the past seven years, I have taken advantage of my sewing and knitting talents to create handcrafted gifts for the grandkids' teachers at Christmas and at the end of the year. I've even heard that some of the teachers tell my daughter-in-law they look forward to those gift occasions. (Whew! Sometimes I worry that they'd rather have a gift card.)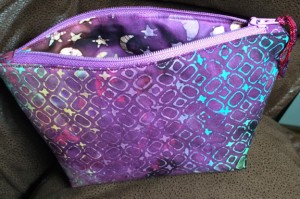 A month ago a Tucson friend of mine posted on Facebook a small zippered bag she had made. She shared the link to the tutorial on Amanda Niederhauser's "Jedi Craft Girl" blog. I thought the bags were cute, and decided to make these for my end of year teacher gifts.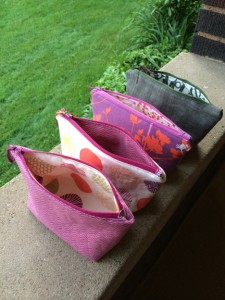 Fabrics I used:
Windham Fabrics Collage – scratch
Windham Fabrics Collage – alphabet
If you look at the other fabrics in this collection, you'll recognize some of the fabrics I used for the notebook covers I made for the teachers last Christmas.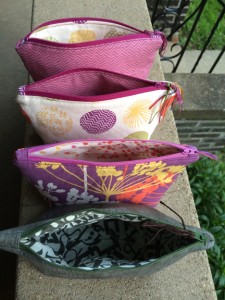 Dear Stella "Piper"
Dear Stella chevron stripe
Dear Stella circles
Dear Stella Sprinkles (Multi)
I think the only thing I changed on the tutorial was to trim the seam allowances off the fusible fleece before fusing to the face fabric.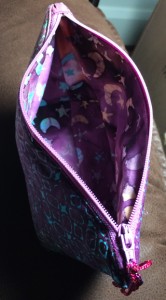 And my only reminder to you is this: make sure you left the bag unzipped. Always check before you sew up the boxed corners. (You hear my "oops", don't you?)
I have a plastic box full of various trims suitable for embellishing fiber projects. I dug in and found suitable embroidery threads that I pulled through the zipper pull to make it easier to grip.
Took the four bags over to the grandbabes' house tonight, then came home and finished one more to put in my stash. For this bag I used the same cotton batik that I used in the zippered mesh bag I made a couple of weeks ago.
I'm preparing to add ecommerce to my website. Watch for this bag to appear there.