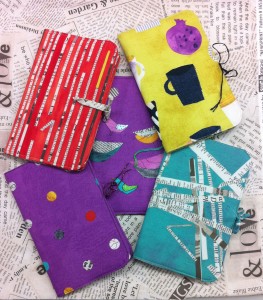 One of my great joys since my grandchildren started school has been to make holiday and end-of-year gifts for their teachers. Each year the teachers would get similar items, but each different. And all have been handmade.
One year it was handknit scarves, one year the mesh zipper bags that I love to make, one year little purses. I deliver the requisite quantity to my daughter-in-law, and the children pick out which item is "perfect for" which teacher.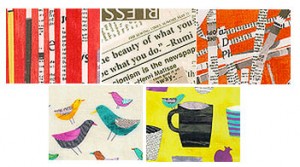 This year it's notebook covers. You know those fabulous Moleskine notebooks that you pick up each time you're in Barnes & Noble? Yep, those. I found this great selection of fabrics in my local quilt store last week. They're from the 'Collage' collection by Carrie Bloomston of Such Designs for Windham Fabrics. I've made padded notebook covers for the Moleskine notebooks. The lining is the newspaper collage fabric, so when the teacher uses up one of the notebooks and inserts another, she has inspiring words to read. The outside is the bright fabric – one with birds, one with polka dots, one with vertical stripes. And each has a tie to hold it closed in her bag.
Why, yes, I did make one for myself. Out of a jazzy piano keyboard fabric, of course.
What have you done for your kids' or grandkids' teachers this holiday season? They do so much for our beloved babes—how could I not put the effort into these lovely gifts?
And in my normal fashion, each year I wonder if the teachers wouldn't just rather have a gift card to Staples or Barnes and Noble. And then I get a comment on Facebook that makes me smile the rest of the day:
Nesha, who has been my knitting friend for several years, and this year became my darling Boston's teacher, posted on my Facebook page today:
Every year around this time, I read your posts and think, "Boy, I can hardly wait until those kids are in MY class!" At last!
Happy Grandma.