If you've read the newpapers or watched television or opened up Weather.Com in the recent week, you know that—along with the rest of the northern and eastern half of the Continental United States—we have been quaking in our long underwear. My son recently moved into a new-to-him, old-in-the-world-of-insulation house and has asked me for insulated drapes for windows.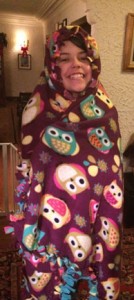 As he was moving in and getting settled, he decided to paint a few of the rooms that were the most color-challenged. The Jazzman helped out, and the project involved taking Miss Ridley to the paint store and asking her what colors she would like her room to be. She settled on a pale lavender with yellow trim.
As I was thinking about ways to make the house warmer, I decided Ridley needed a new blanket for her bed. The colors would, of course, be pale lavender and yellow. I thought instantly of a no-sew fleece blanket my cousin had made for my mother several years ago. Searching the internet, I found the instructions I wanted. While in Jo-Ann's looking for drapery fabric on the big-sale Saturday after Thanksgiving, I noticed the fleece was marked 80% off and threw a purple/yellow owl print into my cart, along with a coordinating turquoise solid. Yesterday I set to work.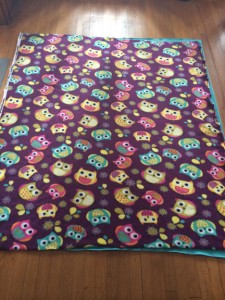 With help from the Jazzman, I spread the two fleece layers out on an open space in the foyer. I measured and trimmed to make it as much of a rectangle (rather than a quadrilateral) as possible. Then I turned on an audiobook on my iDevice, settled on the floor with tailor's chalk, a quilting ruler, and a pair of very sharp scissors, and set out to cut "fringe" and tie square knots.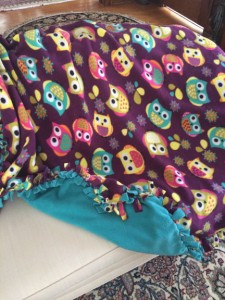 The whole project, for a twin-bed size blanket, took about two hours. Today, my legs are barking and my forearms are crying, but the job is done. And without the use of even one needle.
Fun? Yes. I enjoyed making the blanket, especially knowing how much this sweet 10-year-old would love it. She loves everything I make for her, which makes it real easy for me to come up with other garments and gifts to make for her.
And, boy, does she love this blanket!