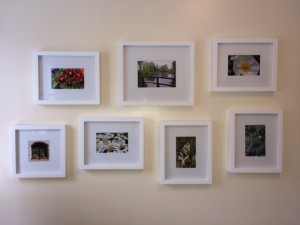 As I reviewed the photos I took in May on our tour of the Burgundy and Champagne regions of France, Paris and Giverny, I realized I had a number of flower photos that I really loved. I started toying with ideas of how best to display them.
I love looking at the pictures in the Houzz.com email newsletter and browsing Pinterest decorating ideas. At some point I saw a photo of white frames with white mats in a single horizontal line and thought these might be just what I wanted. I browsed several dozen sites searching just the right frame, then found them on sale at Pottery Barn. I ordered a set of five 9″x11″ frames with 4″x6″ openings and printed off my favorites of the photos. When I lined them up on the wall, they didn't have the impact I expected. I had also ordered an 11″x13″ frame with 5″x7″ opening in which I placed the photo of the pond and the green footbridge at Monet's house and gardens in Giverny. I had it alone on one wall, opposite where I envisioned the five-in-a-row frames, until a Boothbay Harbor photo I took on a Maine vacation called out to live on that wall.
Now that I was thinking of grouping the various-sized frames, I wanted an odd number. The five 9″x11″ frames plus the 11″x13″ frame needed a friend. I ordered a 9″x9″ frame with 4″x4″ opening and kept trying different photos in that frame until I found a shot I took of a charming window in the medieval walled city of Pérouges, France. Voila! My flowers were going to brighten my breakfast room.
I laid them out on the floor and moved them around until I had something I liked, then—without measuring, aiming for an ordered randomness—I hammered the hangers into the wall. I liked the way everything looked except the top center frame. It wasn't quite right, but I didn't know how I wanted to change it. But every morning for about three weeks, I ate breakfast at the table in the room, facing those frames. And finally it hit me: center the top center frame between the top left and top right frame.
The Jazzman helped me measure and hang, and now I love it!
I just had to sit and observe long enough for it to tell me where it wanted to live.