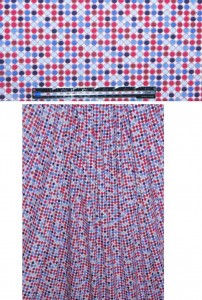 Every year the Jazzman and I spend the week of the Fourth of July in a cottage at Madison Shores in Madison-on-the-Lake, along the southern shore of Lake Erie. Many of the families who summer there come from the Youngstown area, and have been staying in the same cottages in this development for 20 years. The sense of community is strong.
On the Fourth of July, there are organized games for the kids. It's a big deal! And I'm patriotic, so I want to wear something appropriate to the day while I watch my grandkids get their game on.
This year, in the midst of my knit top sewing frenzy, I found this cute red, white, and blue rayon/lycra super-stretchy knit at Emma One Sock. I don't know what I was thinking when I chose it, but I expected larger dots. Duh! Linda puts the ruler in the photo; it's not hard to see the exact size of the dots.
I decided to make it up in Katherine Tilton's Vogue 8793, with a single overlapped collar. I didn't want a self collar, and was short on time before leaving for the Lake (When will I ever learn?!), so ran to Jo-Ann's and picked up a bit of white 95% rayon/5% spandex for the collar.
I made this top once before, and it goes together quickly. It's a quite basic pattern with Katherine's artistic flair polishing it off. But when I slipped this top on after finishing it, I looked in the mirror and shuddered. Inside my head, I screamed, "I look like I'm eighty!!!"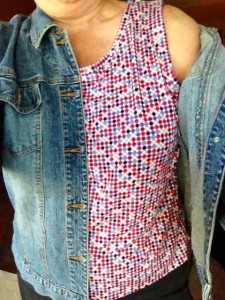 I ripped it off, grabbed stencils and paints and tried to give it a little pizzazz to take the viewer's eye off all.those.dots. Nope. No joy. I folded it and set it on my "what next" table.
Last week I was able to pick up Marcy Tilton's out-of-print modern twinset, Vogue 8559, for half price on eBay, so decided to remake this t-shirt into a cute little tank.
[Sidebar: I need to rethink this t-shirt. I wore it the last time I went to Asheville to visit my mother. She looked at me and said, "That's a funny shirt," in that way she has that you know means, "What a butt-ugly shirt. What were you thinking when you bought that?!" Every time I've worn the shirt since that visit, I haven't liked it. I'm past 60 and I still crave my mother's approval. At what age will I quit caring about the thoughtless, critical words that come out of my her mouth?!]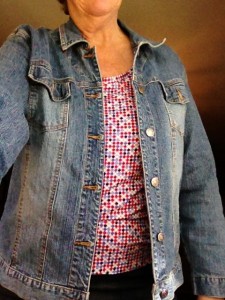 After taking the t-shirt apart, I laid out the tank pattern. I had to piece the neck and armhole bands from the sleeves of the shirt. When the tank was complete except for the hem, I threw it on, with a jean jacket over, to run to the grocery store. After wearing it for half an hour, I noticed that the armholes have a little gaposis.
The solution would be to remove the armhole bands, cut them shorter, and reapply, stretching more to eliminate the gaps.
Am I going to do that? Probably not. I have five items on my sewing room to-do list, and not enough hours in the day.
What I learned: I like this little modern twinset, and will make it again. And I know what to do about the armholes.