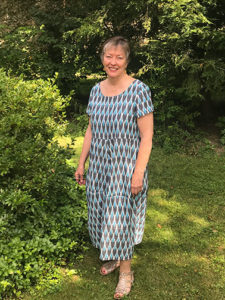 Last summer (2018) was spent traveling, including two weeks in Bali, bookended by a couple of days in Singapore, and a couple of weeks in Japan. The time in Bali included significant fabric shopping. The time in Singapore included one wonderful visit to Poppy Fabric, which is one of my favorite fabric shops in the world.
A few days ago, I saw a blog post for Tessuti Fabrics' Eva dress pattern, which I have made a couple of times. I still don't feel like I've mastered it, and I do like to have #success experiences when sewing. Seeing that blog post and remembering I had made it several years ago made me want to make it again. When I looked in my Bali box, I remembered my Poppy purchase of a silk ikat from India.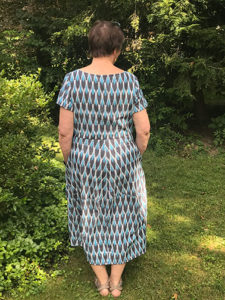 Note: One of the things I learned in Bali was that ikats from Bali are cotton and ikats from Japan and India are almost all silk. This silk yardage from India doesn't feel like silk—it doesn't feel "silky." It could easily be mistaken for a lightweight linen or a cotton. But it's a lovely, very wearable silk.
Over the weekend, I was able to carve out the time to dig into Eva. I finished it early this morning and put it on for photos. I love it! I have yet to figure out how to style it, but that will be the fun part. I love this dress! And when my oh-so-chic daughter-in-law saw it on Instagram this morning, she immediately declared her love for it and said she needed one. I love this woman so much that I will definitely be making one for her after I finish a couple of commissions.
It appears I have my sewing mojo back. Now, once I get my fall semester schedule, can I keep carving out sewing time? I hope so.