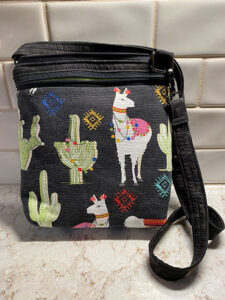 The next pattern I tried in my seemingly never-ending crossbody quest was the Lexi Carryall from Joan Hawley's "Lazy Girl Designs." I believe I finished the bag the weekend of May 7. It was such a busy time with the final week of classes, then exams/juries week. And while I was snatching time from my schedule to work on this bag, I read on Facebook that Joan Hawley had died, suddenly, on May 3 of a brain bleed. This was the first of her patterns I had worked on in five or more years, and it just felt eerie to learn of her passing while I was working on one of her patterns.
[ I want you to see the other two patterns of hers that I've made, back when my grandchildren were in elementary school and I made teacher gifts at Christmas and at the end of each year. These are sweet little bags. If you make the first one carefully, stretching your brain, the rest will come together easily. Here's the link to the Lazy Girl Designs pattern catalog. (It's not set up to link directly to each pattern.) The two I've made are Sweetpea Pods and the Bendy Bag. Both are cool little bags, quick sews, and great gifts for teachers or your gal pals. A few days ago, I noticed the Casey Quick Cases, which should solve my problem of all the tiny holes in the front of my t-shirts and (horrors!) sweaters from hanging my beloved sharp little trimmer scissors around my neck! Or I could just remember to put the case back on the scissors when I'm finished trimming some threads. 😳 ]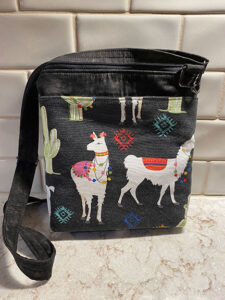 Back to the Lexi Carryall. I chose this bag because of all the pockets. The fabric I chose is from Richloom Fabrics, from the line that they make to sell to JoAnn's and other fabric stores (per my next-door neighbor, who designs for Richloom's mobile home and RV collection). I found it on fabric .com several years ago and loved the llamas and the various cacti (having lived in Tucson for eight years). The fabric is a canvas weight. When I laid it out to cut, I noticed some marks that wouldn't wipe off, so I threw it in the washer and dryer. It came out of the dryer looking a little less black—as if some of the surface dyes had rubbed off in the process. It just looks a little antiqued to me. But that does nothing to diminish what a nice bag it is. If I were using this or a similar dark fabric for home dec, I would just spray it with a fabric protector, e.g. Scotchgard®, and wipe it clean with a damp cloth. I finish all my bags that way.
I followed the pattern very closely. This was not a difficult bag to make, and turned out nicely. It uses fusible fleece for the interfacing on some of the pieces. It feels a little bulky to me, even before I've loaded any belongings in it. But I guess that means it will protect your glasses and phone well. Here's a picture showing a 16.9 oz. water bottle inside to demonstrate the size of the finished bag. The dimensions are 9″ x 9″ x 2½". This bag has a true boxed bottom—nice! However, I don't think I'd want it for a travel bag because of the weight. I tend to like smaller bags with just enough room for my small card/cash zippered pouch, my phone, and a lipstick and pack of tissues. (But I also carry a larger handbag, which I throw my tiny crossbody into, pulling the tiny bag out when I want to go to dinner and just need the bare necessities.)
Fabrics: Richloom cotton canvas. There is no more on fabric .com, but I found some on Etsy. Here's that link. I didn't even consider it Christmas fabric, as lots of places in Tucson keep lights strung around their saguaros year 'round. But then, I've been known to be less than observant of things around me. 😲 Go to any online fabric store and search on "llama" and you'll see lots of cute fabrics. This bag has the following fabric requirements: ⅔ yard Feature fabric for Front Zip Pocket and Back Slip Pocket; ⅔ yard for Adjustable Strap and Inside Pockets; ½ yard for Back of Bag and Front ip Pocket Lining; and ½ yard for the bag lining.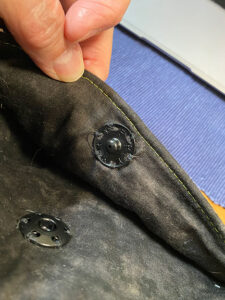 The pattern does not specify a magnetic snap on the back slip pocket, but I always carry my crossbody bags with the slip pocket next to my body to safeguard my phone and whatever else I've tucked in there. Once the back slip pocket was finished, I realized I wanted a snap there and dug into my stash of closures to find a ¾" black sew-in snap. I was glad I added that modification.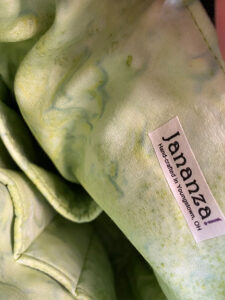 I used a black splotchy sorta mock-hand-dyed fabric for the piece that's called the "front top" and for the back and the inside of the back slip pocket. I used another mock-hand-dye in the spring green for the lining of the front zip pocket, for the lining, and for the interior pockets. (I like my pocket linings to be light colors so I can find things.) So I used a total of three fabrics, plus two black handbag zippers You can use a zipper by the yard, or a 30″ or longer double-pull handbag zipper. (These are both size #5 zippers.) My hardware (two rectangle rings, two swivel hooks, and a slide for the adjustable strap) was Gunmetal to go with all the black.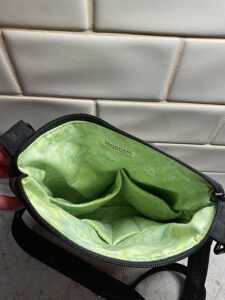 If this is a "thing" for you, Joan's instructions detail how to alter the construction techniques if you always wear your crossbody bag on your left side or always on your right side. You would want your zipper to pull from one side or the other depending on how you wear it. I am inconsistent, just throwing the strap over my head and whatever arm is available!
I think that's everything. I love the fabric and think it's a very cute bag. But this Bag Lady thinks it's rated "not for me." I doubt I'll make it again. But a lot of people would love it, I believe.