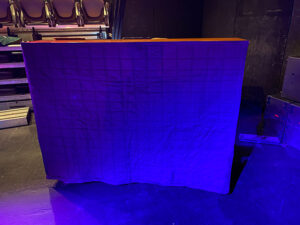 Today's Me-Made item is something you don't see often. It's a sound-dampening blanket for an upright piano. The first picture shows it in use in Youngstown State University's black box theatre, the Spotlight Theatre.
When one plays for musical theatre productions or performances of singers who deal primarily in musical theatre, there is rarely the issue of an imbalance of sound between the piano and the singer. The singers are almost always fitted with a microphone that broadcasts their music through the house sound system. But when playing for classical music singers, they are usually not mic'd. They are taught to rely on their ability to project their voices rather than use the microphone to do that. This past Tuesday evening, I accompanied Adam Dominick, a lovely young man whom I accompanied pre-pandemic. As we were getting ready to come back in person to school in August of 2021, he asked if I would accompany him for his senior year lessons and his Senior Showcase, the capstone project that musical theatre students plan and perform. His Showcase was to be performed in a small theatre, so there was no need for him to be mic'd. But there was a need for me not to overwhelm his sound with mine.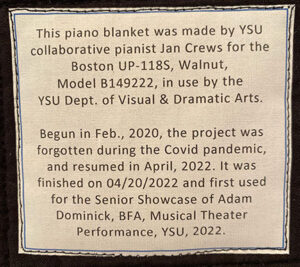 When I knew how soft I'd have to play one song, his professor/vocal coach and I remembered the blanket I had started making in the spring of 2020. I knew right where it was hiding in my sewing room, dragged it out, and finished it during my spare time in a couple of days. We used it for dress rehearsal on Monday afternoon, and then for the performance on Tuesday night. Perfect! It did exactly what I wanted it to do, and looked fine while doing it. 😜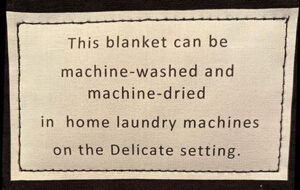 The fabric is 100% cotton in a quilt backing weight—a lightweight fabric that is 108″ wide. I cut the fabric the size of the piano back. I made a "quilt sandwich" with two or three layers of 100% cotton quilt batting and the front and back of the quilt. I did horizontal and vertical quilting in about 3″ blocks, then bound it with ½" straight-cut (not bias) binding. There were a number of pieces of Velcro®, the hook side, adhered to the top of the back of the piano. Rather than measure where these Velcro holders were placed and how long they were, I just took several long strips of Velcro, the loop side, and sewed them to the top binding, about ¼" from the top edge of the quilt. I butted their raw edges so I had one continuous strip. The blanket grabs those Velcro strips perfectly.
The finished dimensions are ~69¾" wide and ~43″ high.
It fits the back of the Boston upright piano perfectly, and gave us the balance we wanted between piano and singer.
Jan for the win!! 😇