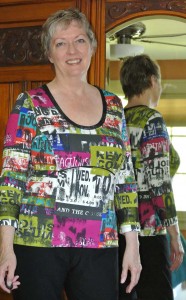 Yesterday I finished another version of Katherine Tilton's Vogue 8817, View A. I am in love with this top. I think the neckline is one of the most flattering necklines I've ever worn. You may remember I made a top out of this pattern/view before the trip to France.
The fabric is another Emma One Sock delight that Linda calls "Poster City." The fabric is a 96% rayon/4% lycra blend that feels like buttah. This print is a little out of the norm for me, and I absolutely love it. Would you believe that, prior to last summer, I didn't own a print top?! My wardrobe is richer for the patterns Marcy and Katherine Tilton have been designing!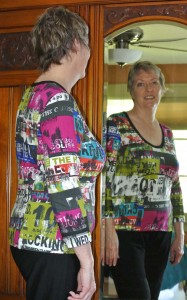 If you look at the blog post about the previous making of this top, you'll see the contrasting insert in the back. This time I wanted the back to be all made of the main fabric. I overlaid the two pattern pieces to cut out the back. Look at the image in the mirror here. That inset is what I was trying to do away with this time. Success!
The contrast fabric is a great black mesh that I'm pretty sure came from Marcy Tilton's fabulous fabric store. I used it for the band around each sleeve (I love how you can see the underlying print through the mesh.), for the trim on the neck, and for the little inset on the underbust seam across the front. (Cut a piece 1½" wide ((½" seam allowance times 2) + (¼" times 2 for the folded edge peeking out)), fold in half, then hold between the front and lower front pieces when seaming.)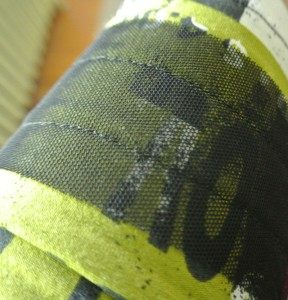 What you get is a ¼" piece peaking out of the seam. Just a nice little bit of seam definition.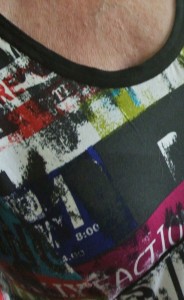 Instead of sewing the folded neck band in a circle, sewing it onto the neck opening, then flipping it up and topstitching, I bound the edge. I cut a strip 2½" (⅝" x 4) wide and the same length as the neck band pattern piece. I seamed only the right shoulder, then stitched this neck band onto the neck opening with a ⅝" seam, right sides together, stretching it to fit the opening. Then I wrapped the strip to the wrong side and tucked the last ⅝" up under the "facing." I hand-sewed it into place (because I love handwork – you wouldn't have to do this…) and then topstiched ⅜" from the seam.
Since we believe summer may come to Northeast Ohio at some time in the next 14 weeks, I'll make this top again, drafting cap sleeves for the hot and humid days. I do love this top!!