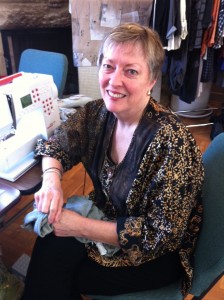 For wearable crafters, last month was Me Made May. I wanted to participate, but knew I was spending half of May away from home–eleven days in France and five days in North Carolina. So I participated in a quieter fashion than most.
If you're a regular reader, you know I was obsessively sewing prior to my tour of France. If you scroll backwards through the posts written since the end of January, you'll see the results of all that activity.
While in France, I believe there was only one day I didn't wear something I had made. And on all days, I carried one of two tote bags I made for the trip. So I guess you could say I did, indeed, wear something I made every day.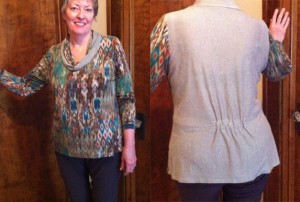 Likewise, on my North Carolina trip to celebrate my mother's 100th birthday, I wore something I made every day. On the first day, when I arrived at her assisted living facility, she looked at me and said, "That's a funny shirt." It was Katherine Tilton's Vogue 8793, a stripe for the back, an abstract stripe for the front and sleeves, and a mixture of the two for the double collar. I love it. My mother thinks it's strange. Oh, well.
So I missed MMM'13 this year, but you can bet I'll be there next year–especially now that I've got my Me Made wardrobe built up.
Here's what I wondered last night while putting away the laundry: If all your handcrafted tops and pants won't fit in your available storage, do you have too many clothes or not enough storage?