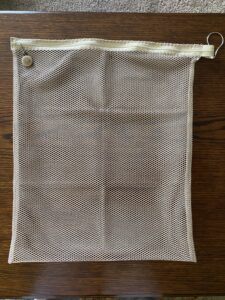 Every time we travel, the Jazzman forgets to take along a container (think: plastic grocery bag, shopping bag, cloth tote from car trunk for bagging groceries or one of the hundred or so Jan-crafted bags sitting around my sewing room!) in which to stash his dirty clothes before we head home. Every so often, I think I should make or buy him a bag for his laundry, and then once we're back home and I'm in practice and performance mode, I forget all about it.
This week I was busy with: 1) my cousin's bags, making a false bottom for the one that wasn't standing up the way I envisioned it should so I could ship those two bags to her before leaving for vacation; and 2) making three of my special masks for the trip, one for Jas and two for myself.
Let the record show that by Wednesday noon I had not started packing for our cruise from Boston to Montreal. If you aren't on Facebook, you wouldn't know I came down with Covid and had my first Positive test on May 8. I wasn't sure I was going to get over Covid in time to be allowed to board the ship tomorrow (8/27). I finally tested Negative on 8/18 and again on 8/20, but when I completed the Holland America-required health assessment two days ago, was told I couldn't travel. I had to call their medical department and hold for three hours! to have a woman tell me I should be okay, but that I would have to test again when we got to the pier on 8/27.
So, anyway, while I was procrastinating packing, lest I burst into tears over missing this cruise I've been waiting years for, I had a lightbulb moment that said, "Make a laundry bag for Jas."
And in the photo above, you see how that turned out.
Happy, happy me!
It's modeled on an undie laundry bag I got at Nordstrom about ten years ago. I just grabbed some mesh and cut the largest rectangle I could out of that mesh, grabbed a coordinating zipper, and whipped it up in about 30 minutes or less.
Now, I'll never have to look around for "this oughta do" bags in whatever hotel room we're living in for a few days.
The dimensions are about 18″ x 20″. The zipper has a dress-zipper-size pull on it, so I found a coordinating zipper pull (that the lovely lady who owns Zip-It Zippers on Etsy sometimes sends along as a gift to her customers) to hook onto that pull. On the other end of the zipper, I made a loop out of the excess zipper tape and hooked a spare shower curtain ring onto that loop. That way, Jas can hang it from a hanger in the ship room closet (Ahem. Actually, we're in one of the Neptune suites. 😊) and easily tuck his dirty clothes into the bag.
You can bet I'm patting myself on the back over this make!