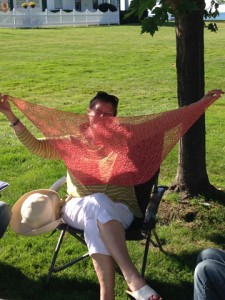 Catching up on some older projects that haven't made it to a blog post yet ….
One of Wolf Creek Yarn's weekly newsletters in March grabbed my attention. In Northeast Ohio, we were still in the depths of a brutal winter, but the scarf shown in the newsletter sang to me of spring. The scarf is made of Berroco Lago yarn, a rayon/linen blend that gives the wearer accessory options for warm-weather outfits.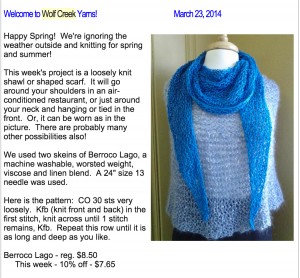 I made a road trip over to Grove City to visit Wolf Creek for the first time, where I bought two skeins each of the colors Papaya and Passion Flower.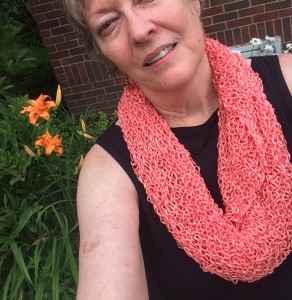 It's an easy and fairly mindless knitting project. Cast on very loosely 30 stitches, then increase one stitch in the first and last stitches in every row until you have about 10 yards left, then cast off very loosely.So long as you don't forget to do the increases, you're good!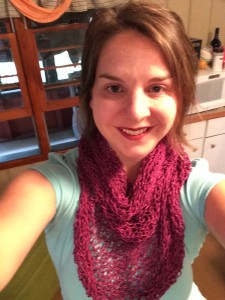 I kept the Papaya scarf for myself and have worn it a couple of times through the summer. The Passion Flower scarf went to our lovely friend, Leslie. She selfied it for me from her cabin at Interlochen Arts Camp, where she teaches in the dance department each summer.
On both of these scarves, I felt the ends would benefit from having a little weight on them. For Leslie's, I snooped around my jewelry-making and beading supplies and wired some beads onto a lobster claw clasp. For mine, I browsed all the jewelry vendors at YSU's Summer Festival of the Arts, and found the perfect little pair of earrings that could easily be attached to the ends.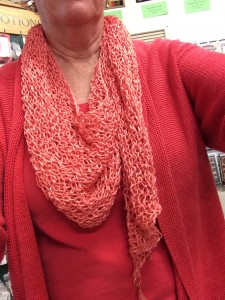 Now if I could only—again—have a neck that didn't arrange itself in fold upon fold when I try to photograph a scarf, life would be perfect. Or perfecter.
It's all relative, right?
(Okay, I'll show you the neck photo. It shows off the scarf well, but not my old neck.)