Six Months. This fabric has been waiting for six months, since I captured it from the fabric department at the Karstadt department store in Frankfurt, Germany, last November. It was similar in print and hand to the "Poster City" rayon/lycra print I got from Emma One Sock last year. The new fabric has waited patiently through the brutal winter we just endured. And now its time has come.
I've been pondering pattern choice for this fabric periodically over the six months. I thought I wanted a simple top because of the busy-ness of the pattern. However, after making a Butterick 5925, View A, for a friend a couple of weeks ago, I wanted to make one for myself. So I laid the fabric out and thought I had enough. But I lengthened the body by 2″, so I didn't really have enough.
Could I have chosen a different pattern? Sure. I have a wide variety of patterns that I haven't tried yet that would have only required the two metres I purchased. But—stubborn me—I wanted this top in this fabric. So I cut out what I could: back, front, godet, and (I think) collar.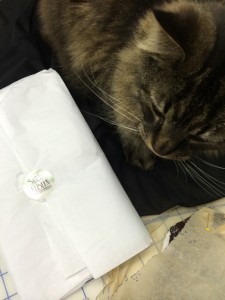 Then I snuggled into my bed with my iPad and started looking around for either more of this print or a coordinating print or solid that would go well for sleeves and pockets. I found several possibilities online at Mood Fabrics and ordered swatches. In a few days I can audition them with the "poster print" fabric and see what I like.
My helper was in place tonight, doing his part to assist impede my progress.
Last week I ordered more Soft Stretch Fusible Tricot interfacing from Sarah Veblen. So tonight I stabilized and sewed the shoulder seams, then stabilized and pressed up the hem. Once I choose the companion fabric, I'll be that much closer to completion. I might even be able to have it done before I drive to the mountains of Western North Carolina after Memorial Day for my mother's 101st birthday.