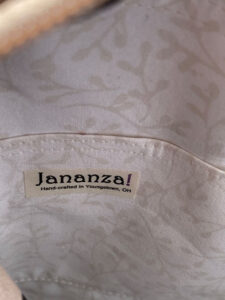 I may have found The Pattern for the bags for my cousin.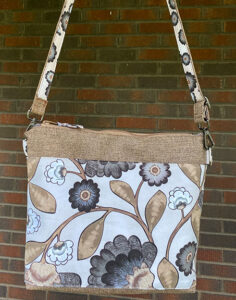 I've admired Noodlehead bag patterns for years, but have never made one. As I was reaching the end of my test bags for Diane, the wife of my cousin, Ken (link to the blog posts about the test bags) and taking one last pass through all the patterns of the indie bag pattern designers whose work I admire, I came upon Noodlehead's Hillside Tote from designer Anna Graham, and realized it was the perfect candidate. And now, with the bag finished and having eyed it repeatedly for several weeks, I absolutely love it.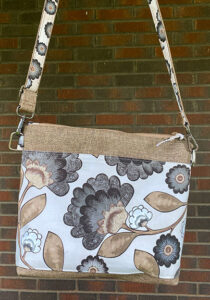 Why do I love thee? Let me count …. Where each of the test bags I made, written up in the link above, had some idiosyncracy or lack of a significant feature, there's nothing about this bag that I don't like.
I have a limited quantity of the vintage fabric to use. The Hillside uses a base fabric, and then a feature fabric for the exterior pockets. It will use less of the vintage fabric, enabling me to make more bags for Diane and her sisters, or to return the extra to her when I'm done, for whatever else she'd like to do with the leftover fabric. I like the exterior pockets—I like the magnetic snap closure on the wide slip pocket. The other is a slip pocket with topstitching vertically down the center to form two smaller pockets. If I were going to change anything about these pockets, I would make the divided pocket be a full zippered pocket. I may try that on one bag and see what I think. One of the fabrics I've ordered for the base fabric is waterproof, which I think could be nice.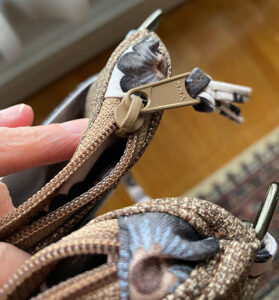 I inserted the main zipper in the normal way I do on my Sew Sweetness bags, with a small piece of fabric enclosing the raw zipper ends. I like how that has come together.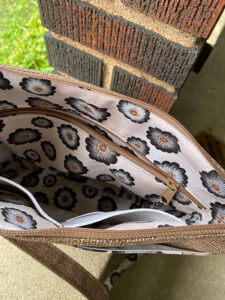 I like the internal pockets—a nice big zippered pocket (which is my addition to the pattern) and a divided slip pocket, to which I've added a secondary small slip pocket that measures about 5½" by 3¾" and holds my proof-of-vaccination card and my driver's license.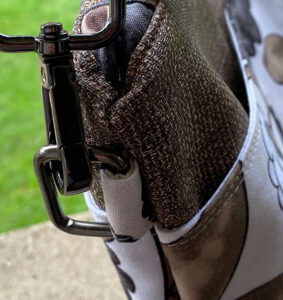 I love the hardware I chose, a gunmetal shade that I love with these fabrics. That, of course, is not a facet of the pattern. It's just what I liked and am so glad that I chose.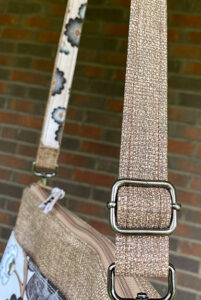 And I totally love the double-sided strap. This is the Sew Sweetness video that Sara Lawson created to demonstrate a double-sided strap. I don't know how many videos Sara has made since starting to design bag patterns, but she is excellent at explaining what she's doing and how her bags go together. She gives her followers the knowledge they need to produce professional-looking bags. The skills she teaches on her YouTube channel (125k followers) and in her Facebook group (68.6k members) have enabled me to take most any bag pattern and successfully complete the project. And I do know that I'm writing about another designer's bag, but the video is everything. There were a couple of places I could have used a video about the Hillside construction.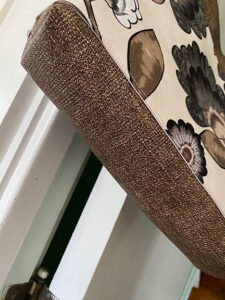 And finally, I love the base of the bag. If you have read all my other posts about the bags I tested, you'll know that having a cleanly sewn base that enabled room for a small water bottle or a big sunglasses case was important to my choice. This, I think, is just a lovely base. You can see in this picture how the outside pockets are topstitched to the bottom of the sides. It just feels nice and secure. I don't believe this is a bag that would ever be returned to the maker for repairs.
So, if you'll excuse me now, I'm going to go down and take my first cut into the vintage fabric. It's time!!