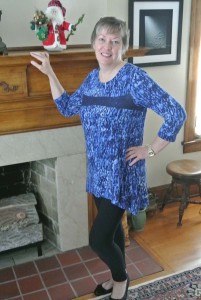 I never wear blue. Probably the last time there was anything blue in my wardrobe when I was in a local sorority, Tyes, at Florida Technological University (now University of Central Florida) and our colors were blue and gold. I made a blue jumper for a rush party. (Wait for it … you know the photo is to follow.)
For the next year I will be serving as campaign treasurer for my friend, Michele Lepore Hagan, who is running for the Ohio House of Representatives seat her husband, Bob Hagan, is vacating. I went with Michele to the Mahoning County Board of Elections office to file her paperwork declaring her intent to run, and—in my best patriotic intention—wore my favorite red sweater. My friend, who served as Bob's campaign treasurer, said, "You can't wear read. That's the Republicans' color." Well, duh. So I came home and started looking for something blue-but-not-too-blue.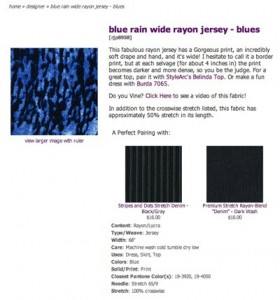 I found this blue rayon print at GorgeousFabrics.com and grabbed enough to make another version of Katherine Tilton's Vogue 8817. I've done this top before; here is a list of the blog posts. The fabric is very soft and cotton-y feeling. This will be a great three-seasons top.
Review:
Pattern Description: Close-fitting, pullover top has neck binding, seam detail, stitched hems, contrast variations, and optional double needle topstitching and silk screen motifs. A and B: sleeve bands. B:lower front cut on crosswise grain of fabric. D: purchased trim. Note: included are Katherine Tilton's instructions for silk screening. This is view C/D.
Pattern Sizing: B5(8-10-12-14-16), F5(16-18-20-22-24) This is my fourth or fifth go-round with this pattern. I am 5'8″ and 38DD – I make no alterations in the pattern and love it as it is.
Did it look like the photo/drawing on the pattern envelope once you were done sewing with it? Yes.
Were the instructions easy to follow? Yes.
What did you particularly like or dislike about the pattern?
Fabric Used: Rayon/lycra knit from Gorgeous Fabrics.
Pattern alterations or any design changes you made: I cut the back a little shorter and straighter — left the length of the side seam as is and just straightened out the back a little.
I cut the middle front piece lengthwise along the selvedge, which was the darkest blue in the print.
The next time I make this top, I'll do a vertical-only FBA, so the front won't pull up. But really, if you don't want to do an FBA, it's fine as is.
Would you sew it again? Would you recommend it to others? Absolutely yes – five times yes!
Conclusion: Easy, flattering top with two very different versions – both equally flattering and easy to make. Looks good in a variety of fabrics.
See the full write-up on my blog, with photos and links to the other versions.
---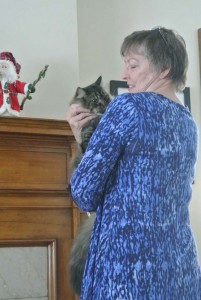 Here's a view of the back. I wish the Spousal Equivalent had gotten the hem, but one must take what she can get when relying on the kindness of housemates. I like how the hem dips down a little on the sides after my slicing a little off the back.
That guy on my shoulder in the picture is Angel, whose disposition is anything but angelic. He is part Maine Coon and lives life on his own terms. "Pet me twice. If you pet me a third time, I will attempt to bite your hand off."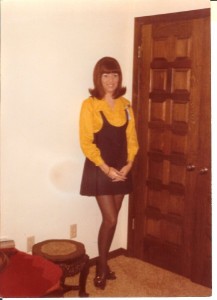 I'll be wearing this top to our next campaign event. I guess any blue is better than my fave red sweater. Oh, well. Politics is not about fashion, right?
And, here's my Tyes rush costume, circa 1969: