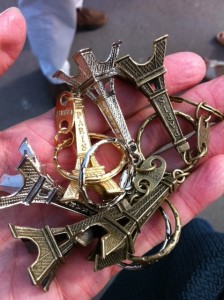 Today I'm grateful for:
Having packed a boxy wool cowlneck sweater that I could put two other layers underneath. (However, I'm kicking myself for pulling the cashmere twinset out of the suitcase at the last minute. "It's spring", I thought. Yeah, so what? It's danged cold!)
Two pairs of Naot shoes. These ultra comfortable shoes are worth every penny the retailers charge.
Getting to see new-to-me cities and attractions. Blown away yesterday by the Chateau de Chantilly. I'm enchanted with the little town of Senlis, near the chateau. We had lunch in an enchanting little underground restaurant, "Les Barbares," in Senlis. Did I fantasize of about spending a summer month in Senlis? You bet!
Au revoir to Reims.
Bonjour to Paris!
(Our day of transfer from Reims to Paris was so busy, it was late in our first full day in Paris before I had time to post this. Tonight is the farewell dinner of the organized tour, and begins our two-day extension in Paris.)