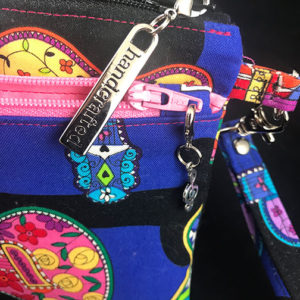 Some bags take longer to finish than others. This one has been hanging out in my sewing room since … early February, 2019! As I type this, we are 27 hours away from 2020! That's a long time to be a WIP (Work In Progress). What got in the way of its completion? The problems I was having with my primary bagmaking machine. I was having problems with "birdsnests" (nasty tangles of thread that mass on the underside of a seam) which the machine repair tech called "user error." My reaction to her statement: "Grumble, grumble."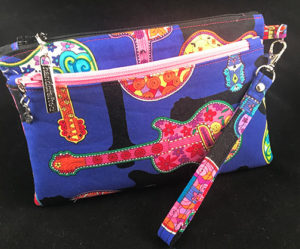 You might be wondering what I did to get around that birdsnest problem. I just bought a new machine! I had saved all the money I earned in a few gigs during the spring semester and my summer job at Interlochen. Then, when I returned home from Interlochen, I ordered a Juki TL-2010Q from Sew to Speak in Worthington, Ohio. I am in love with this machine, and it's solved all my sewing problems that were caused when a machine refused to handle eight layers of bag fabric and interfacing. This is a semi-industrial, straight stitch machine, and I haven't yet found a combination of fabrics that it can't handle.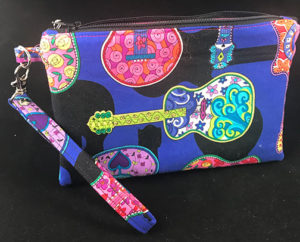 I'm still using the Bernina 330, but I reserve it for simpler, thinner bags. And it works fine, most of the time. So I keep it threaded with a neutral color of thread in a light color. The Juki stays threaded with black, until I need a different color for topstitching.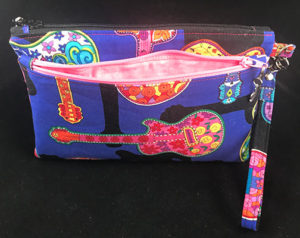 Within the past few weeks, I've sold three bags in my Etsy shop. So now I'm motivated to get some more bags finished and posted. Tonight I was working on a couple of other bags that are close to completion, but I needed to change thread. I glanced around my sewing table and realized this little WIP just needed a small amount of work in black, so I decided to finish it before changing the thread on the Juki.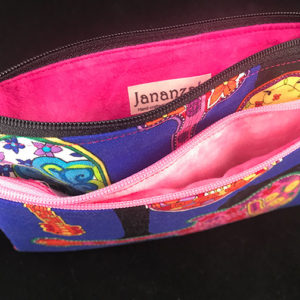 This is another Metro Double Zip Pouch from Sew Sweetness bag patterns. I've made a number of these bags before and love the pattern. [See blog post detailing these bags.] It's a versatile little (or not so little, depending on which of the three sizes in the pattern you choose to make) bag. I made it with an extra pocket in between the two zippered pockets. This pocket is perfect for holding a smart phone.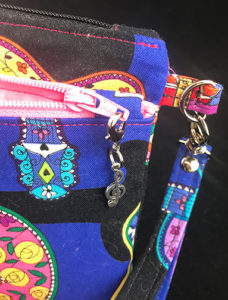 The bag is made from a favorite fabric that's been in my stash for a while. It's guitars adorned with flowers. The background is a deep royal blue. I selected the pink in the guitar on the front of the front pocket for one of the zippers. The lining fabric is a wonderful hand-dyed cotton that I bought in my favorite Tucson quilting shop when I lived there fifteen years ago. The top zipper is black, and the zipper pull charms are a "Handcrafted" charm on the top zipper, and a treble clef charm on the front zipper. The bag includes a wrist strap to make it easy to carry.
This wristlet bag will be posted on my Etsy store tomorrow, if you've a hankering to purchase it.
Thanks for looking!