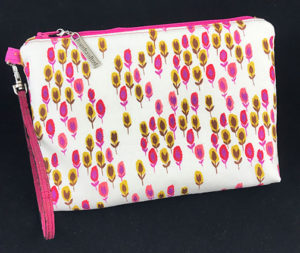 Two days after Christmas, one of the two beloved nieces of my partner got married, quietly, with only the couple's children in attendance. But the next day, the extended families would gather at the bride's parents' home for a celebration.
Between them, the couple has four daughters, high school and college aged. Because we hadn't made it down to the Columbus area to celebrate Christmas with the family, I bought some Panera and Starbucks gift cards for the four great-nieces. I wanted something nice in which to present the gift cards to the young ladies. So I started sewing bags. After several hours of work on these bags, I sternly said to myself, "You're crazy."
I'm thrilled that three bags have sold off my Etsy page in the past two weeks. And I want to stock more bags on the site. That means I must be smarter than to put lots of effort and energy and resources into some very carefully constructed bags that will not necessarily be used, or even liked. I realized I needed to put these bags in my shop, and just buy little gift bags on post-Christmas sale at Walgreen's and be done with it.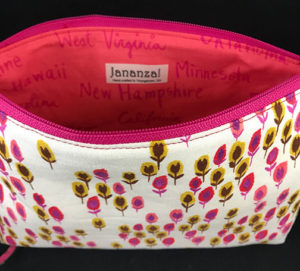 So here are the first two of the new bags going up on my site as soon as we get home from the wedding celebrations. These bags are a pattern "hack" of the Sew Sweetness Paladin Pouch that I've made twice. Those earlier bags are blogged here and here. Look at this picture of the second Paladin I made. You can clearly see that it's constructed from two separate bags cleverly sewn together. I saw a picture on the Facebook Sew Sweetness Patterns users group of a bag made from just one of the two bags. I decided that would make a cute bag that would be a quick and easy make. I shortened the zipper so it stops at each side of the bag, rather than overhanging the end. And I added a tab and D-ring on one side, and made a wrist strap to hook onto that D-ring. I'm very happy with how these bags turned out. I think they are great bags that are perfect for carrying one's phone and a small credit card folder with ID and money.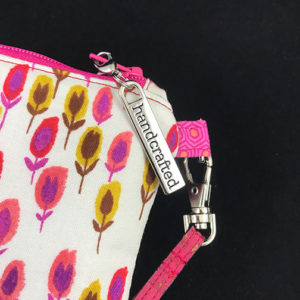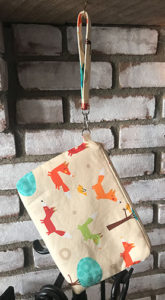 The fabric for both these bags came from my "deep stash," 😉 by which I mean fabric that's been in place for a very long time.
The first bag is "vintage" Cotton + Steel fabric, dating from one of the their early collections. Both the exterior and lining fabrics are from Alexia Abegg's collection, Hatbox. I haven't been able to determine the pattern name for the exterior fabric, but the lining is called "All the States." Googling will "alexia abegg", "cotton + steel", and hatbox will get you some hits, if you're wanting some of the fabric. It still exists in sellers' stashes.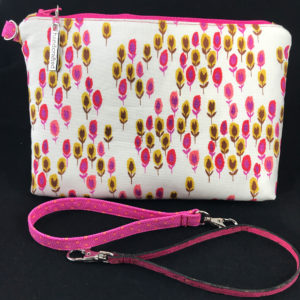 [Edit 1/2/2010: Happy New Year! In the middle of the night a couple of nights after I wrote this post, it suddenly occurred to me that just because the strap tab held a ¼" D-ring, that didn't mean the strap had to have a ¼" swivel hook. That part of the hook that one measures when choosing the size is just the loop at the end where the strap is connected to the hook hardware. A ½" swivel hook is going to be fine with a ¼" D-ring. Sometimes I can be so dense!! So yesterday afternoon, before going to our friends' house for New Year's dinner, I whipped up a ½" wide, ~6″ diameter wrist strap and sewed it onto one of the ½" swivel hooks I picked up at JoAnn's yesterday morning. The bag with both its straps is up on Etsy now. Sometimes I just have to let a project sit in my brain for a while before it all gels.]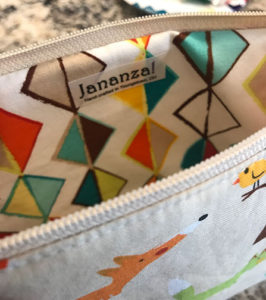 The second bag is made from fabric designed by Amy Schimler for Robert Kaufman Fabrics. The collection is Creatures and Critters 3. The exterior is Fox and the lining is Diamonds, both in colorway Ivory. Love those foxes and the sweet little birds sitting in the trees.
I'm pleased with these bags, and have a third cut out for when I return home from this party trip. Check out my Etsy shop, Jananza, if you'd like to own either of these bags.
Wishing you and yours a happy new year, with 366 days full of peace and love.