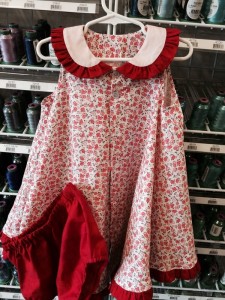 Most of my sewing, when I'm not the intended recipient, is a labor of love. My most recent experience didn't follow that tradition.
The store owner approached me with three bolts of fabric and a pattern for a little girl's dress and asked me to make it for a store sample. I was complimented. To my mind, that meant she liked the work I had done on the (much disliked by me) Amy Butler skirt and skirt overlay I had completed a few weeks ago.
Now, I love to sew. Obviously. One could not turn out the number of garments I've created in the past 18 months without loving the work. This little dress, however, was a different story. Within five minutes of starting the laying-out and cutting process, I sensed this was not going to be an easy sew.
By the time I was sewing on the final button, I was totally disgusted. I can only hope she'll give me a bag to make the next time. Or at least something with reasonable instructions!
Here's the review, if you're curious:
Pattern Description: Madeline with two variations has a bias cut skirt and buttons in the front. The short dress has a high curved yoke and short puffed sleeves that are finished with contrasting piping and a bias sleeve band. The contrasting fabric is also used as a self-ruffle around the Peter Pan collar and bottom of dress. The other view is sleeveless. The armholes are finished with a bias strip. Pattern includes matching panties.
Pattern Sizing: Children's 1-4
Did it look like the photo/drawing on the pattern envelope once you were done sewing with it? Yes
Were the instructions easy to follow? Some okay; some very confusing.
What did you particularly like or dislike about the pattern?
1) Be sure to read the entire pattern before beginning, including errata page and extra explanations.
2) Size 4 cutting layout is incorrect. Must be folded on the crossgrain for the skirt to fit on.
3) "Wrap around yoke" – there were four of us, very experienced sewers and sewing teachers, standing around the pattern trying to figure out how to construct the yoke. The instruction illustrations were very confusing, especially regarding the yoke.
4) A French seam on a 1/4″ seam allowance is no good. Once you sew the wrong-sides-together 1/8″' seam and trim it, you've got two threads holding that seam in place. Then you press, turn, press, and sew another 1/8″ seam? Why not design the pattern with more reasonable 1/2″ seam allowances. That would leave you with a 1/4″ finished seam, which is not too much for a child's dress. In my mind, this 1/4″ seam allowance is poor design.
5) By this point in the construction of this dress, I was just disgusted. I had cut out the short sleeves, but when I saw the step about piping the binding for the sleeve hem, I decided there would be no sleeves. The instructions and illustration for finishing the armhole on the sleeveless version made it appear that the seam allowance would be visible, not tucked inside. I tried both ways and ultimately turned the seam allowance to the inside, turned the binding under, and whipstitched in place
6) Measurements for cutting strips for ruffle – instructions say to cut 4 (I think – left the pattern at the store) strips of a specific width, selvedge to selvedge. Then you're instructed to measure the skirt hem edge, front fold line to front fold line. The perimeter measurement was around 205″. You're supposed to multiply that by 1.75. That's 359″. You need to cut 9-44″ strips to make that ruffle, not 4! That may seem like a nit, but it's just recurring sloppy instructions.
7) Turning the leg openings on the panties–given the tight curves next to the crotch–and sewing to make elastic casing was difficult and, ultimately, not pretty. My only consolation as the seamstress on this garment is it's a store sample and will probably never be worn by a human child!
Fabric Used: 100% Cotton
Pattern alterations or any design changes you made: None.
Would you sew it again? Would you recommend it to others? No. Never. (And given this experience, I'm unlikely to purchase any more patterns from this label or recommend them to any shoppers in the store. Will be advising store owner not to purchase any more.)
Conclusion: Cute dress, twirly skirt any little girl would love, and I can tell the designer(s) put a lot of work into it, but I cannot recommend this pattern. It is absolutely not for a beginning sewer.
---
Whew! I'm glad
that's
over!