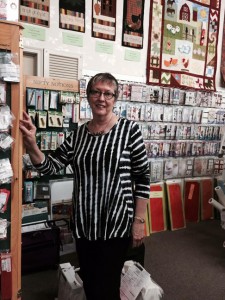 I'm a sucker for early-morning shopping from my inbox. Once my stash is full, I have to consciously tell myself, "Don't look. Don't look."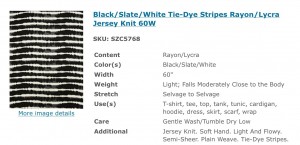 While on vacation, I looked at a Fabric Mart sale email and fell for this black and white "tie-dye" stripe. And I'm glad I did. This rayon/lycra blend knit is soft and super comfortable.
I love the lime green version of Katherine Tilton's Vogue 8710 that I made in June, but I don't think it goes with anything but white pants. Summer. In Northeast Ohio, summer is long gone. Additionally, I made the green top with horizontal stripes, as opposed to the vertical stripes shown in the pattern. So I wanted to try a version with horizontal stripes. And this fabric was on sale for FOUR DOLLARS!!! Sold.
The "Stolen Moments" refers to how busy I am preparing for a mid-November "Company" production in Sharpsville. There's really no time for anything but work and music–and it's killing me!! So I'm sneaking 15-30 minutes here and there. The Jazzman falls asleep in front of the TV and I race to the basement for 20 minutes of sewing. I'm ready to leave for work 10 minutes early? Sewing time!
You know the old adage, "Where there's a will, there's a way"? That's me. I had a will to make this top and found a way!
Here's the review: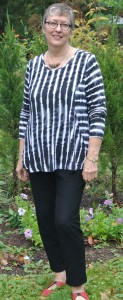 Pattern Description: MISSES' TOP: Semi-fitted, pullover tops A, B have topstitching details. B: forward shoulder, top mostly cut on crosswise grain, bound neck edge, long sleeves, stitched hems.
Pattern Sizing: Y(XS-S-M), ZZ(L-XL-XXL) Katherine's Large fits me just right.
Did it look like the photo/drawing on the pattern envelope once you were done sewing with it? Yes, with reservations – I think Katherine and Vogue used a cotton/lycra blend or a heavier knit that my rayon/lycra. To me the pattern illustration looks more t-shirt-y and mine looks more tunic-y. (Looking again at the pattern envelope, maybe my fluid rayon/lycra falls more closely to the body where the heavier fabric just skims one's curves.) But I love it!
Were the instructions easy to follow? Yes. No hiccups, no hurdles.
What did you particularly like or dislike about the pattern? For me, this version was an experiment with lengthwise vs. crosswise stretch. In the first version, the body was crosswise, and then I noticed the pattern was lengthwise. So for this version I cut the body lengthwise.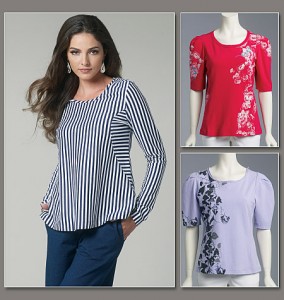 Only when I was setting the sleeve in did I realize the pattern calls for the sleeves to be lengthwise also, and I cut them crosswise. Guess I've got to make one more version of this! Does the lengthwise make me look taller and slimmer than the crosswise? I don't think so. Or the camera lied!
Fabric Used: Rayon/lycra blend from Fabric Mart.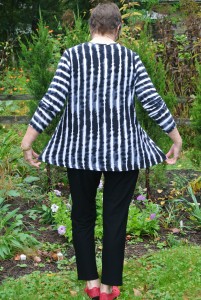 Pattern alterations or any design changes you made: I add two inches to the length along the "shorten/lengthen" lines. This alteration and the way I drafted the side for the extra two inches gives me more of a flouncy, twirly hem on this top. Love it!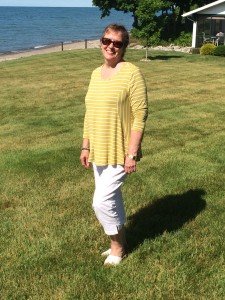 Would you sew it again? Would you recommend it to others? Yes. Love it. (Did I say that already?!
Conclusion: When I look at the photos, I just shake my head. For some reason, this top—in photographs—makes be look as big as a barn. But when I'm wearing it and look in the mirror, I love how it looks. Oh well. I do love this top and find it easy to make and (in my mind!) flattering. I got numerous compliments on my appearance when I wore it this week, so that must tell the story.
---
Compare the black & white version to the lime & white. I think the lime is more flattering. Must be something about the camera angle or the fabric.
Maybe I already said: I love it anyway. 🙂