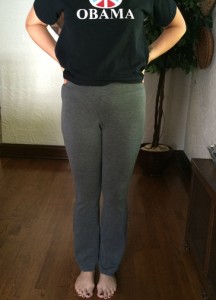 You've heard of eating Humble Pie, or of eating one's words, right? Well, after this weekend's sewing, I'm eating Serger Pie.
Way back in, oh, 1998, I bought a serger. Honestly, in retrospect I don't know why I bought it. The magazines I was reading and the classes I was taking at the time all talked about sergers and the beautiful work they allow the home sewist to produce. So I thought I needed one.
I bought the Bernina 1100DA, took the guide classes offered by the dealer in Vienna, Virginia, and then tucked it into a cupboard. I moved a few months later, than again six months later, then four years, two years, two years, one year …. With each of those moves, the virtually brand-new serger went from box to cupboard to box and never came out. Never was used.
Frequently, when sewists get together, we mention the number of machines we own. I would mention my Bernina 1630 and my Husqvarna Viking Designer 1 and my mother's hand-me-down Bernette. Then I'd say, "Oh, and I have a serger, but I never use it."
I sew lots of knit garments and get along just fine, thankyouverymuch. I don't need no stinking serger to make a lovely garment.
And then I began working at the local Bernina dealer. During my first week on the job, I had to learn to operate all the machines on the showroom floor in preparation for selling them.
The stars of that new job aligned with the stars of my daughter-in-law asking me last June if I could make these pants. I searched and searched for patterns, but could find nothing that looked like my finished product would remotely resemble the pants she desired.
And then I saw the Jocole Yoga Pants pattern. They looked doable and comfortable. And the pattern seemed straightforward enough that we could easily tweak it to give her exactly the pants she wanted.
She asked for a dark gray heather-y fabric that wouldn't display cat hair or dog hair as she ran errands after working around the house. After checking the stock of all my favorite on-line fabric stores, I settled on
Gray Ponte 320 from Hart's Fabric
. The rayon makes it comfortably breathable, the nylon makes it soft, and the lycra gives it stretch. I ordered two yards.
In the midst of the new job and learning pages and pages of Sondheim for two different shows, I found time this weekend to tape the PDF pattern together, trace off her size, adding 3″ to the length of the long size, and cut out the fabric. (She's 5'11". Finding pants long enough is one of the great challenges of her life.)
As I was reading the pattern instructions, I saw the words, "If you use a serger…". I thought, "What pattern and fabric better for me to get off my butt and practice with this serger."
I sewed up the first seam and began dancing around the sewing room with glee. That was one gorgeous clean-finished seam!!
I'm a convert.
Here's the review:
Pattern Description: Ladies Yoga Pants, Capris & Shorts – pdf sewing pattern
Pattern Sizing:XS-XXXL, Pattern includes full length, capri length and short length options. Petites, Regular and Tall.
Did it look like the photo/drawing on the pattern envelope once you were done sewing with it? Yes!
Were the instructions easy to follow? Yes!
What did you particularly like or dislike about the pattern? Clear instructions, easy construction.
Fabric Used: Rayon, nylon, lycra Ponte 320 from Hart's Fabric. Killer fabric for these pants!!
Pattern alterations or any design changes you made: My DIL is 5'11". We looked at all the measurements on the pattern and added 3″ to the Tall size at the "add here" line. They're perfect, but she'd like some that are longer. The next pair will have another two inches added to make them more versatile, i.e. for more than just yoga class.
I used the same soft tricot interfacing that I use on my knit tops to reinforce the hemline. I cut 5/8″ strips and fused to the bottom of the legs, then folded, pressed, and double-needle top-stitched with wooly nylon in the bobbin. Perfect. Also double-needle top-stitched the waistband seam allowance to the pant (away from the waistband). Perfect!!
Would you sew it again? Would you recommend it to others? I expect more of these will be coming off my serger. This is a great pant.
Conclusion: Perfect first activewear stretch pant for beginning sewists or new serger owners. Easy and very flattering.
---
I can see so many uses for this pant. My granddaughter, at 11, is about 5'8½". I can see making these in shorts and adding a rayon jersey skirt into the waistband. Then she can jump and run without worrying about modesty. She can do handstands if she wants!
I have a beloved Eileen Fisher skirt that has a foldover waistband. Well, lookee, this pattern has a similar foldover waistband.
I can't stress enough how simple these pants are. Four long seams, then seam on waistband, then waistband application to waist, then hems and topstitch waistband seam allowance. Bim, boom, bam. Done. Less than an hour.
Now if I can just teach my DIL to cut them out herself, she'd have an entire wardrobe of super comfortable pants in no time!