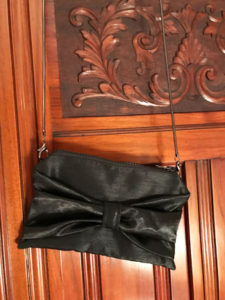 I'm heading to Southern California next week for a special wedding on April 15. The bride is my great-niece, my half-sister's granddaughter. The mother of the bride, the grandmother of the bride, and I will be traveling together on Wednesday, and the aunt of the bride will be following on Friday evening. My sister has been most gracious in including me in all the planning—including turning to me for wardrobe consults. You know I loved that!!
Today I whipped up a little evening bag that might be used by either the MOB or the AOB. It's based upon the Big Bow Clutch tutorial by Melissa of Polka Dot Chair.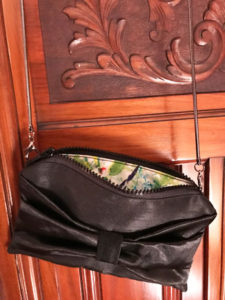 I wanted a solid black, but wanted the bow to be in a different finish than the bag itself. I ordered a 100% polyester Shantung Sateen fabric from fabric [dot] com. This is, effectively, a satin-back shantung. The bag was sewn with the shantung finish as the right side; the bow was made with the satin finish as the right side. I stuck my hand deep into a stash of silks, and came up with a fat quarter of white china silk that I had splotch-painted with a bunch of different bright paints many years ago. It had been resting, just waiting for an opportunity, like this, to bring some pizazz to a simple little black bag. All pattern pieces were interfaced with Pellon SF-101.
I made the bag much smaller than Melissa's tute bag. The fabric pieces ended up being about 5½" x 9″. After a lot of pfitzing with it to come out with the finished bag, it's about 5″ tall and 7″ wide. I love the explosion of color when the bag is unzipped.
I bought a Mary Frances beaded bag for myself around Christmas. Then when we were working on pulling the perfect GOB outfit together for my sister, I found the ideal little Mary Frances bag for her, also. (Suzanne's boutique in Boardman carries this brand locally; I can't stop eyeing her entire stock every time I'm in the store.) These bags have snake chain straps with lobster claw connectors that I love. I looked high and low online to find a chain strap that was the right size and would be delivered quickly. I found it on eBay from the vendor Deeliciousee. Ordered on Thursday of last week, it arrived on Monday of this week.
And how is the strap attached, you might ask. I took a 4″ x 1″ strip of the black fabric, folded it in half, right sides together, and sewed down the middle of the strip. Using the tiniest FasTurn tube, I turned it right side out. The seam allowance fills the finished fabric tube to make a very nice strip. I cut two pieces about 1½", folded them in half, and sewed them at each end of the zipper. (There's more to the process, but I'm only going to tell you if you're a sewist and seriously interested in trying to replicate this fastener loop. PM me.)
So the bag is finished, and tomorrow I'll run over to Medina to visit my sister and deliver the bag for my nieces to squabble over. (Don't worry, I'm taking a couple other evening bags for them to choose from, if they'd rather. This auntie aims to please.)