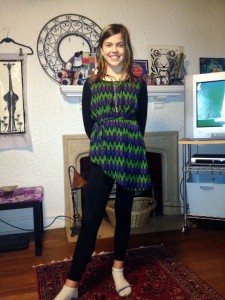 Remember my guinea pig shirt? That was the Sandra Betzina t-shirt I made when I could find no reviews of the pattern, so didn't really know what I was getting into.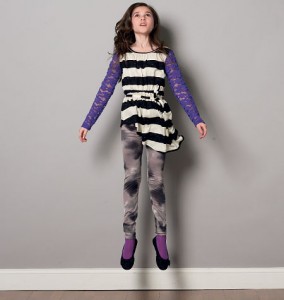 I had bought enough of that fabric that I would be able to make (or help make) a top for DGD, who—sadly—has already passed out of her "I'm going to be a fashion designer when I grow up" phase. <Insert very sad face emoticon here>. And wouldn't you know it…I (or she) chose another pattern for which there were no reviews. However, this pattern was a complete piece o' cake, given the number of knit tops I've made over the past ten months.
This is McCall's 6787, cute as it can be.
Pattern Description: GIRLS'/GIRLS' PLUS DRESSES, TUNIC, BELT AND LEGGINGS: Pullover dresses and tunic have front gathered into neck binding, elasticized (seamed) waist, and narrow hem. A: peplum, and sleeves gathered at cap and into sleeve binding. B, C and D: belt, bow B. Overlay C and lower edge D: shaped hemline. Leggings have elastic waist, and no side seams. All have narrow hem. I made View D.
Pattern Sizing: Combinations: GIRL(7-8-10-12-14), PLS(101/2-121/2-141/2-161/2) I cut a 14.
Did it look like the photo/drawing on the pattern envelope once you were done sewing with it? Yes.
Were the instructions easy to follow? Very easy.
What did you particularly like or dislike about the pattern? Well-written instructions. Well-thought-out design. Very, very stylish for the elementary school crowd.
Fabric Used: For the body, a Missoni-esque ITY fabric that I picked up at Vogue Fabrics' booth at the Pittburgh Original Sewing & Quilt Expo. For the sleeves, a great nylon/acetate/lycra that Ann Steeves at Gorgeous Fabrics calls Swiss 4-way stretch. Ann's description is right-on: It will be a mainstay of your wardrobe.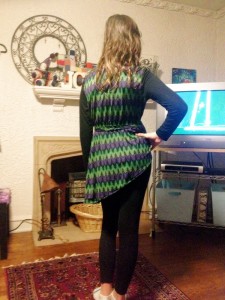 Pattern alterations or any design changes you made: None, although that was a boo-boo. DGD is 10yo, and has the body of a 10yo, but she has the height of a 14yo. I should measure her every time I start making something, as she's growing like the proverbial weed. Last May I made a dress for her end-of-year activities. I cut a 16 and had to take it in to 14 in the chest. So I thought I could cut a 14 in this top. But, that dress had a raised waist. I didn't have to worry about back waist length. I should have worried about back waist length on this top.
Changes I did make: put a strip of interfacing at the back shoulder to stabilize that seam; put a 5/8″ strip of soft interfacing along the hemline and at the sleeve hem. This gives me a much smoother finish with the double needle technique.
Would you sew it again? Would you recommend it to others? Yes, with alterations for back waist length. Highly recommend.
Conclusion: Very easy, very cute, very appealing to young girls. If you've got a young girl in your life, and you like working with knits or even want to try working with knits, this is a great pattern!
---
The bottom line for DGD was that she loved it. She declared it very comfy and didn't mind that the waist was a little high on her. She popped it over a pair of black leggings I had grabbed off the shelf at Wal-mart, wrapped the self-belt around the [raised] waist and did a twirl for me.
Don't you love success stories?!