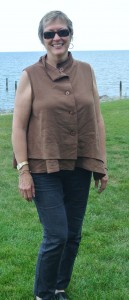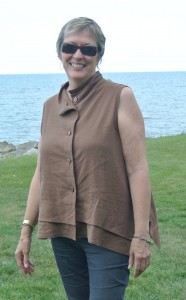 Most of Katherine Tilton's patterns have appeared in Vogue Patterns until this past spring, when two new patterns were published in Vogue's sister publication, Butterick Patterns. When I saw Katherine's new top with vest and jacket views, Butterick 5891, I ordered the pattern immediately and started imagining how I could decrease my fabric stash with this pattern. First I made the jacket view in a hand-dyed silk shantung, but I'll tell you about that another day. Today we're going to talk about the vest.
Before deciding what to do with the pattern, I read the six reviews on PatternReview.com. Several people complained that the pattern had 15—count em, 15—pattern pieces. And while I agree that it is a pain to cut 15 pattern pieces for one little vest, the result was definitely worth the effort. I love this garment beyond words!
(Click on any photo to view larger version.)
---
Pattern Description: Loose-fitting top has collar variations, side pockets (left side A, B), and shaped hemline. A and B: raised neckline, mock neck/lower bands, front pleated peplum and narrow hem. C and D: folded, single layer collar, and stitched hems. Wrong side shows on hemlines and collar C, D.
Pattern Sizing: Misses 8-24. I believe I cut a 16.
Did it look like the photo/drawing on the pattern envelope once you were done sewing with it? Yes.
Were the instructions easy to follow? Pretty much – there were a couple of times I had to scratch my head and reread a couple of times, but for the most part, if you can apply logic and common sense to a problem, they were easy to follow.
What did you particularly like or dislike about the pattern? The neckline. Wow – how flattering! The subtly asymmetrical hem is out-of-the-box without going too far for my rather conservative tastes. And the off-center back seam is unique and interesting.
I disliked the lack of finishing detail suggestions for the inside. I love creating garments that don't have a raw edge showing on the inside, and that was challenging.
Fabric Used: A lightweight rusty brown linen that's been in my stash for about 12 years. Because of the color, I believe I'll be able to wear this into the fall with the black lightweight t-shirt underneath.
Pattern alterations or any design changes you made: I am 5'8″ tall. I added 2″ to the length on every piece that had "shorten or lengthen here" lines. Next time, I'll increase that by an inch or two.
I didn't love the tucks in the peplum when I was almost done and tried it on, so just unsewed them. The peplum hangs down below the top, mirroring the lines of the top.
Would you sew it again? Would you recommend it to others? Yes, I'll probably sew it again. Yes, I'd recommend, but not to beginners.
Conclusion: An hour after finishing the top, I threw it on over my fave Eileen Fisher silk jersey crew neck long-sleeve top for a quick trip up to Lake Erie for an end-of-summer pot luck with friends. Once we got up there, the weather was warmer than expected, so I ducked inside the cottage and pulled off the t-shirt. I loved the look, whether as a sleeveless top or a vest. I felt chic and received compliments. I had no idea I would love this top the way I do.
I'm thinking another made of a sweater knit or a lightweight wool would be the perfect addition to my winter wardrobe.
Thanks, Katherine!!
---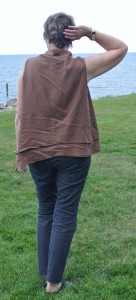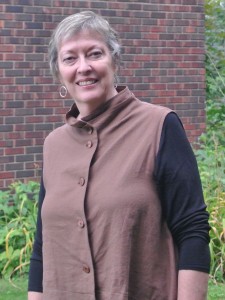 Here's the back. My girlfriend told me to strike a pose before she clicked the shutter. If you like those slacks, here's their story. Oh, I found recycled plastic buttons, Green Earth, a new line of product from La Mode.
And—oh, my gosh—look at that neckline. I just think it's one of the most flattering necklines I've ever had frame my face. And doesn't it look great with the t-shirt underneath?
Love at first wearing!