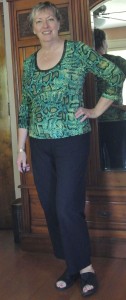 This pattern, Katherine Tilton's Vogue 8817,
has become a favorite TNT (Tried 'n' True) for me. I love both views—View A/B, the T-shirt with a back inset, and View C/D, the tunic. When I saw the delicious colors of this poly/lycra reptile print at Gorgeous Fabrics, I grabbed it. I actually grabbed enough so that DGD could also make a top for herself out of this.
And while I was at it, I grabbed some black mesh to use with the ssssnake print on this shirt.
Here are the two interesting lessons learned from this project:
Mesh vs. Solid: I used the mesh in four places on this top: In the inset on the upper back; for a ½" embellishment in the underbust seam; in a band about 1″ from the bottom of each sleeve; and for the neck binding. Click on the detail photo at the right to see a close-up of these embellishments. What I love the most is the neck binding. You notice—on all the photos—how it doesn't scream *b*l*a*c*k* at you? The mesh in two layers over the base print just creates a subtle "here's the edge of the neck" delineation. Subtle. Chic. Love it!
Changing the amount of stretch: I cut two pieces crosswise—the lower front and the back inset. The stretch on this knit, as on most knits, is crosswise. When you cut a pattern piece crosswise on a knit, you're robbing yourself of the stretch around the body. So the lower front piece having less stretch meant that piece would hug my body more than the side pieces would. And this shirt would be snugger than a similar shirt with all pieces cut lengthwise on the fabric. Look at the two other shirts out of this pattern: Poster City and Love at First Sight. I don't know the exact percentage of stretch in the other two knits, which are rayon rather than polyester. Ann Steeves at Gorgeous Fabrics lists this fabric as having 40% stretch. I didn't take the time yesterday to dig back through my scraps and compare the other two. But I love how this shirt fits. I wore it for a quick Nordstrom-run to Cleveland yesterday, where three sales associates admired the shirt. ("Thank you. I just finished it this morning.")
I'm normally loathe to buy polyester, but one hears so much about the new polyester knits now available on the market. I loved the print so much, I just had to try it. I'm so glad I did—as is DGD, who can't wait to get started on her new ssssnake top.