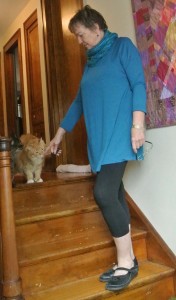 When I made Katherine Tilton's Butterick 5925 top (blogged here and here), I fell in love with the RPL (Rayon-Poly-Lycra blend) fabric. I raced over to Gorgeous Fabrics and grabbed two more pieces, one in Peacock and one in Army Green.
I expected these two pieces to have the same hand as the red RPL. I prewashed, and then last night, when cutting out Katherine Tilton's Butterick 5961, I realized the hand was very different. And still wonderful.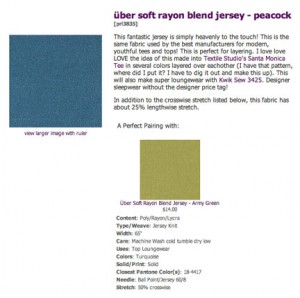 This top, which is slated to go to Germany with me next Friday, feels very similar to a lovely lightweight cashmere twin-set I got from Talbot's about five years ago. "Cozy" is the word that comes to mind. I love this fabric, and have enough to go quickly make something else out of it. (The Jazzman tells me I need to stop sewing and start packing, but I'm determined!)
Here's the formal review:
Pattern Description:
MISSES' TOP AND PANTS: Very loose-fitting, pullover top has collar and shaped armholes. Collar B: cut on crosswise grain. Fitted, tapered pants have side front and side back seams, topstitching and back zipper. D: cuffs. A, B, C and E: stitched hems. I made View C.
Pattern Sizing: B5(8-10-12-14-16), F5(16-18-20-22-24). I cut my standard Tilton 16.
Did it look like the photo/drawing on the pattern envelope once you were done sewing with it? Yes.
Were the instructions easy to follow? Yes.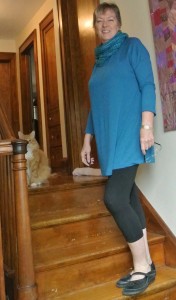 What did you particularly like or dislike about the pattern? Katherine has hit the ball out of the park with this top. I sewed it right up without checking anything and it's perfect!
Fabric Used: RPL from GorgeousFabrics.com. Please note: This is a very soft fabric, so the collar doesn't stand up at all. If you want a more mock turtle look, choose a heavier or heftier fabric.
Pattern alterations or any design changes you made:
I topstitched the shoulder seam, which I normally do on Tilton tops. (The pattern does not tell you to topstitch.) However, after trying the top on I noticed the shoulder seam sits forward, and it would have been nicer if I had omitted it.
Cut 1″ strips of lightweight fusible interfacing and fused to sleeve and bottom hems for a clean fold. Then topstitched with double needle and wooly nylon in bobbin. Perfect.
Would you sew it again? Would you recommend it to others? As soon as I publish this post, I'm going downstairs to cut another!
Conclusion: Make it. Wear it. Love it!! Thanks, Katherine.
---
And how convenient that this peacock fabric perfectly matches the cowl I made after recovering from my broken wrist. It's perfect with this floppy mock-turtle neck.
(And I apologize for the lack of image quality in the pics. It's a very gray day in NE Ohio, and light isn't to be found anywhere!.)