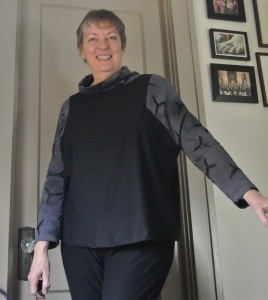 Here's a second take on Katherine Tilton's Butterick 5961. I made the first one on Saturday and blogged about it here.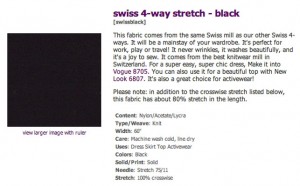 I wanted some more black for tops, and picked up a nylon/acetate/lycra Swiss 4-way stretch at Gorgeous Fabrics. Ann's description is accurate—"it's a joy to sew."
I liked my sweatery teal tunic so much I decided to try the shorter version. I have ordered a pair of those new leggings-with-attached-skirt that one sees everywhere nowadays and thought the length of View A/B would be just right with that. I dipped into my knit remnants basket and came up with a mottled gray knit that feels like a lightweight sweatshirt and has cutouts revealing the black mesh underneath. I previously used it here. As luck would have it, I had enough in the stash for sleeves and a collar for this new top.
My suggestion when putting in the sleeve is to do the sleeve cap, stopping at the small circle. Break your stitching, then clip the corner on the front and back to the reinforcing stitching, pin the sleeve from the small circle down to the side seam. By stopping the stitching this way, I got a very clean angle at that point.
Because of how insignificant the mock-turtle was on the teal sweatery fabric, I added two inches to the height of this collar. I didn't need to do that, but I do like the result. Lesson learned: If you want a collar to stand up, you've got to have some substance for it to do so.
My hems on sleeve and bottom are crisp and clean because of the 1″ strip of lightweight interfacing fused to the edges before folding and double-needle stitched with wooly nylon in the bobbin.
That's it! Quick. Easy. Fun.
I wore the teal tunic on a twelve-hour run-out to Manhattan yesterday for a performance with the Cleveland Orchestra and Chorus at Avery Fisher Hall. It was so comfortable for the plane ride. Several friends noticed it and commented on the unique sleeveline. (Only one picture today, as I drove into my garage at 3:02 this morning, and I need to go vote and run to Jo-Ann's for a zipper.)
Spousal Equivalent is telling me I need to stop making things to pack and actually pack some things. Liftoff for more concerts in Europe is in three days. 😮
I highly recommend Butterick 5961, and tip my hat to Katherine Tilton for the pattern and to Ann Steeves for this great black knit. (The gray knit came from Marcy Tilton's superb online fabric store, but has been out of stock for a year. Keep your eyes open, or pick up an Alabama Chanin book and make your own fabric for a treatment like this.)