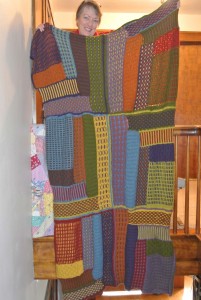 I don't like long drawn-out projects. I like feedback and knowing the end is in sight. When I was an IBMer, I interviewed for several Customer Engineer positions, but knew I wouldn't do well in a job where you plug away and plug away and it can be months or even years before the customer makes a decision.
I've written previously about this project, the Lion Brand Yarns Slip Stitch Sampler Throw. I wrote first in July, at the three-blocks-complete stage, then I updated my status a couple of weeks ago.
The true timeline? I bought the kit from Lion Brands in mid-November last year. The kit contained 14 balls of acrylic yarn (translation: washable!). I ran short of one color so used 15 balls total. I told myself I would cast on as soon as my opera stint on Nov. 30 was finished. Of course, that stint never finished, as (stop me if you've heard this) 20 minutes before the performance, I fell and broke my left wrist. Pulverized the wrist bone. And then had surgery to install a plate. And then three months of recovery before I could see my bare skin again. And then a couple of months of physical therapy. I kept trying to knit, but the hand and wrist would not cooperate. There were only a few ways I could bend that joint and use those stiff fingers.
I didn't document when I finally cast on. I believe it was in April, but serious work didn't begin until the Jazzman and I returned from our May trip to France. In fact, so much time passed that Dear Son #2 didn't remember looking at the picture that I showed him and saying, "Yes, I like that. I'd love to have it in my apartment." I plodded along, but in September I got really serious. Let's get this thing done!!
And now it's done. What a relief! There are six squares, log cabin quilt style. Each square has a center block, then six logs above that center block. Each square contains 20,163 stitches and measures 25″ x 25″. The entire throw contains 120,978 stitches and measures 50″ x 75″. It's just the right size to keep a grown man and his two adolescent children warm on the couch in front of the television or for story time.
What happens when you pick up and put down a project that many times over a long period of time? Your pattern of holding the yarn changes; your tension changes. The squares are not exactly the same size. I washed and blocked and pulled and tugged. It's not perfect, but here's the thing: the new owner loves it! (Or at least has the grace to tell the maker/mother that he loves it.)
Honestly, I didn't love it. For myself, I would have picked out different colors, colors that I felt had more in common with each other. I saw several projects pictured on Ravelry and liked seeing how other knitters had translated the pattern. But for a man's apartment, thrown across a tan couch, it's Just Right.
But if Dear Son #1 decides he wants a blanket knit for his new place, we're going to have to have a long discussion. I'm not thinking I want to start a project of that magnitude again!
My feeling at the end of this project? Whew!
---
And now, for an "awwww" moment: DGD, curled up asleep under the new blanket.