A month ago I bought StyleArc Patterns' Sunny Top. To me it looked cute, easy, and chic. At the time the pattern arrived, we were still knee-deep in snow, and a sweater knit I had bought from Gorgeous Fabrics several years ago was begging to be released from my stash. I could picture it as Sunny, paired with dark brown leggings as the perfect excuse for a pair of brown low-heeled booties.
Last week I was able to carve a couple of hours out of campaign work and sewed up Sunny in my brown and rust sweater knit.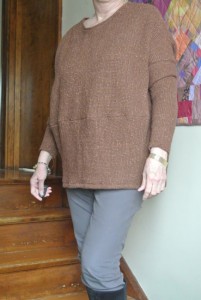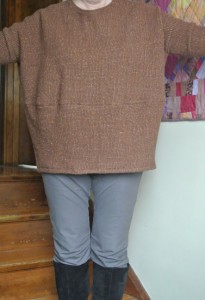 Easy. Quick. Straightforward. Ugly. Butt-ugly. The Jazzman, who will never say to me, "You look nice today" (I assume this means I always look nice so there's nothing out of the ordinary that requires commenting upon.), looked at me staring into the full-length mirror and said, "That's not flattering." He hit that nail on the head!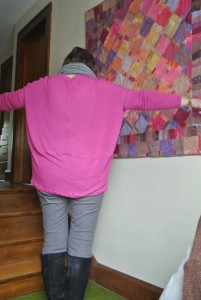 I realized I need to pay more attention to the StyleArc fabric suggestions. When the pattern envelope back says "slinky knit," I need to cut into a slinky knit. (I'm using "slinky" here as an adjective, not as a proper noun.) StyleArc thoughtfully attaches a switch of the original fabric with the fabric. I will henceforth and forevermore pay attention!
I still liked the pattern. I just didn't like it in that too-heavy sweater knit. Doing a little late-night online fabric shopping,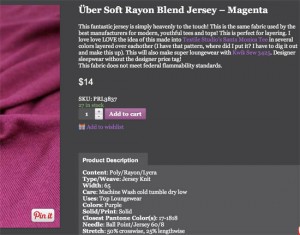 I picked up a length of PRL (polyester/rayon/lycra) from Gorgeous Fabrics. Ann Steeves has a new website at GF—if you're a fabriholic, it's a must-see. This RPL is the same fabric I used for two tops I made for my November trip to Europe with the Cleveland Orchestra and Chorus (Top 1 and Top 2). It has a very cuddly-sweatery feeling without being winter-warm. The color of this new top means I'll wear it all spring (which is almost here) and into the summer.
Here's the review:
Pattern Description: SUNNY KNIT TOP: This is a new shape for a knit top. The oversized look becomes very flattering because of pattern drafting and the cocoon shape which is the new on trend look. Try it, you will love it!!
Pattern Sizing: 4-30. I get very nervous with patterns that are not multi-sized, but took the plunge for this cute top. I wear a 38DD bra; size 14 says 40.2″ bust. It fits fine.
Did it look like the photo/drawing on the pattern envelope once you were done sewing with it? Yes.
Were the instructions easy to follow? Yes, although it does not tell you when to sew the center back seam. Do it either before or after you sew the shoulder seams. (I think it should be step 4a.)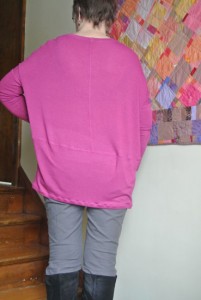 What did you particularly like or dislike about the pattern? I looked for reviews before cutting into the fabric and couldn't find any. Now I find two – both saying the same thing: the sleeves are tight. Actually, I'm more bothered by the tightness of the armscye. That needs to be fixed – maybe cut the sleeve head wider and taper in. The arms actually fit like those of my favorite Eileen Fisher boxy cowl sweater. It's just that the armscye seam feels kinda funky.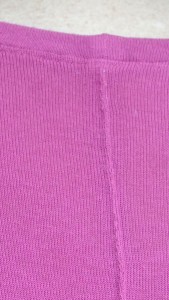 I questioned the center back seam. It's a straight seam, why is it necessary. I wrote StyleArc about it (and about the missing instruction for sewing that seam). I quickly received a nice email from "Chloe and the StyleArc team", saying that the CB seam was there to give you more efficient pattern placement on the fabric – i.e. lower the yardage requirement for this top. It is a straight seam. If you've got enough fabric and don't want the seam there, don't do it.
Fabric Used: RPL from Gorgeous Fabrics
Pattern alterations or any design changes you made: I don't have a serger. Okay, I have one, but I don't know how to use it. It sewed 3/8″ seams rather than 1/4″, then double stitched them at 1/4″. On the center back seam, I just sewed at 3/8″, then pressed open and double-needle topstitched it. This is a technique that Katherine Tilton uses in Vogue 8691 and it makes a nice look and a secure seam.
My only change was to lengthen the top 2″. As the seams are straight at the bottom of the top piece, I simply drew these pattern pieces 2″ longer, rather than slashing and spreading. I love the length. If you look at my blog post and notice the "bad" version (which is cut to the pattern length) versus the "good" version (2″ longer), I think you'll see the difference.
Would you sew it again? Would you recommend it to others? Yes and Yes. Note to all: use a soft knit as Chloe suggests. Don't go off on your own rocky road. For this top, softer and slinkier is better!
Conclusion: Love it! Will definitely be making this again.
---
Personal note 1: This is the first post I've written since I got a new MacBook Pro. I got my first one, used, in March of 2010. Since that date I've been writing without an external keyboard or a mouse. With the new purchase, I broke down and got both keyboard and mouse. HAPPYHAPPYHAPPY! They're not that expensive. Why did I put it off for so long?
Personal note 2: You like that scarf in the first picture, don't you. That's the Safety Scarf. I'm absolutely loving it, and will write a full post about it in a couple of days.