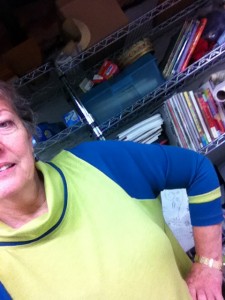 Of course. That's what you'll say when I tell you I decided around 2:00 yesterday afternoon to make Just One More Top for the trip.
I wanted to try Katherine Tilton's Butterick 5961 one more time. I still had some of the peacock RPL from my View C. I had also gotten some "army green" of the same fabric. Their army green is really closer to an avocado.
So I made View A/B and cut it two inches longer.
To counteract the floppiness of the collar, I took the lightweight interfacing that I had used for the hems on View C, tugged to see where it had the most stretch, and cut a full collar out of that and fused to the collar. Because it wasn't a true bias, the collar came out wonky, which I really like. I
I also cut a 1.5″ strip of the teal the same length as the collar and drew lines on it with a lime Fabrico pen. I folded it and basted to one long edge of the collar, so it peeks out of that seam. You have to invade my personal space to see the stripes, but I know they're there.
Finally, to finish tying the teal and green together, I cut a little strip and sewed it onto the left sleeve 2″ above the hem, using the double needle to topstitch the edges and the center.
The top feels a little big on me even thought I cut my normal 16. If you're using a soft knit with a lot of stretch, you might go down a size.
And now it's time to board the plane for Frankfurt. Tschüß!