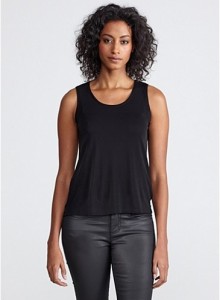 If I had to tell elucidate my most reassured wardrobe possessions, these Eileen Fisher silk tanks would be right at the top. I own three of them in black, plus one in cream, and a similar EF cap-sleeved t-shirt in red. Some were bought on sale but, truthfully, I paid full price for at least one. I wear the black tanks as a man wears undershirts. They allow me to wear my favorite cashmere sweaters longer between washings or visits to the dry cleaner; they smooth out bra lines under knit tops; they provide an extra layer of warmth and comfort on a cold day, they enable me to pack fewer outer layers for international travel. They feel like I've slipped a thin cloud between my skin and my clothes. When I'm traveling, I wash them with two drops of shampoo in the sink, wring out in a towel, hang them in the bathroom on an inflatable hanger, and in less than two hours, they're dry. They roll up to nothing in the suitcase. They are, quite simply, a brilliant purchase.
So every time Marcy Tilton asks her devoted students and followers what fabric they'd like her to stock in her online store, I quickly email or post three words to her: "black silk knit."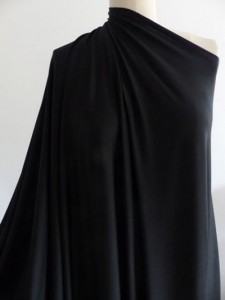 And she heard my pleas. Marcy has stocked a black silk knit in her online fabric store. As soon as she posted it, with no project in mind, I raced to buy a length of it.
When it arrived in my mailbox, I tore the package open and began petting. This is a must-buy fabric. This is a wardrobe staple.
What should you make? Oh, maybe Katherine Tilton's Butterick 5925 to wear with a pair of satin skinny pants and your favorite blingy necklace or chandelier earrings for holiday parties. Maybe a long roomy tee to sleep in. Or a tank like all my EF tanks, but at half the price and with a perfect fit, because you tailored it to your own body.
Whatever you choose, you will be glad you bought the silk, and you'll want more. I gar-ahn-TEE it, as the Men's Wearhouse guy says.