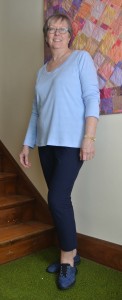 So, we've been eating a little differently around here. The Jazzman is on the elliptical every day for 45 minutes or so, and he's lost pounds—pounds, I tell you! I've lost ounces. But there have been enough ounces so far that I've had to buy new bras. The new measurement was 2″ smaller in circumference, but (of course!) a larger cup size.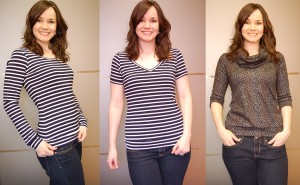 Last October, my SIL-Equivalent in Columbus showed me a t-shirt she had made in a class at a local fabric store. The pattern is the Renfrew t-shirt from indie pattern designer Sewaholic. I loved Barb's version. She chose a knit stripe in a nice mid-weight cotton. And she had done a fabulous job with the neckband on the pattern. It looked like she had been sewing this pattern for years, rather than it being her first time. I ordered the pattern and put it on my project list.
One of my goals for 2015 is to break the code on altering patterns to fit my sizable bust measurements. Why is this an issue? Because most sewing patterns are designed for B cups. I am now a Triple-D (or F, in European sizing—I don't know why American companies switched to D, DD, DDD, and so on. Confusing.). Each cup size increase translates to a 1″ increase in full bust circumference. That means if I choose a pattern for my 36″ high bust measurement, I have to somehow add 4″ to the pattern to get it to fit around me. But in the front only, as my back is the perfect 36″!
Ever since I got the summer job at Interlochen, I've been obsessing about components for my uniform for the summer. See those cute campers in the picture? They're in blue tucked-in polo shirts. And shorts. Neither of those items have a place in my standard wardrobe. I noticed last summer that faculty and staff tend to find a way to skirt (no pun intended) the requirement. So I've been searching for the right shade of blue in a fabric I would like and patterns that will cover my bum and let me feel comfortable while spending my day on a piano bench.
I found a nice blue cotton jersey at Mood and got enough for two t-shirts. I decided to start with Renfrew. I read everything in my personal library of sewing/fitting books on FBA. I googled FBA and Renfrew and found this blog post, which was somewhat helpful. But I felt there should be more hard and fast mathematical rules to it. I wanted it to be a science, not an art. And then I found a video on tissue fitting patterns by my teacher and friend, Marcy Tilton. Here's the YouTube link.

I spent about an hour fiddling with the pattern, tracing it, pinning it, taping it, and cutting it. I dug into my knit scraps and found enough to cut out a front and a back and sew them together. I fiddled with armscye bust darts and adding space and subtracting space. I ended up with a t-shirt body that seemed like it fit me. (Please ignore my cheek in the picture. This was dermatology week, and she froze some old-lady crap off.)

Then I cut it out in my blue cotton jersey and set to constructing it. The lightweight cotton jersey had more give than the scraps I had "muslined" the pattern in. So where my muslin had fit me perfectly, the real deal felt rather large. It felt sloppy. I don't want to look sloppy!! I experimented with making the side seams ½" larger, thus removing another 2″ from the circumference of the garment. I unsewed the darts and moved them up a couple of inches.
Where I thought I was going to be done by 9:00 a.m., it is now 4:00 p.m. Except for my lunch break, I've been going nonstop all day. And I have a shirt that fits. It looks almost nothing like the pattern picture, as I omitted the bottom band and the sleeve band and cut it 3″ longer to get the bum-covering length I wanted.
I don't love it, sd this blue is not really my color. And yet, when I put it with the navy Eileen Fisher stretch crepe slim ankle pant, I do like it. And styled with my new Bernie Mev "Victoria" woven elastic sneakers, well, I'm a happy girl.
I will attempt the Renfrew again—probably more than once, but with a more substantial knit.
And I will continue refining the FBA.