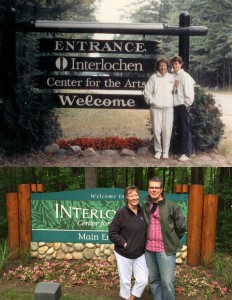 In 1988, when John and I were newly a couple, his daughter Tamara met a lovely man (Jeff, who has now been her husband for over 25 years). During their first summer of dating, Jeff met Scott and Tyler and learned that Tyler was an avid musician. Having spent several summers at what was then National Music Camp (NMC, now Interlochen Arts Camp, IAC), Jeff graciously ordered information to be sent to Tyler. The seed was planted, Tyler learned more and more about percussion during the school year, and he applied to spend the summer of 1989 as a percussionist at NMC.
Tyler, age 14, went into camp with a swagger, "I'm gonna be a drummer in a rock band when I grow up." Within two weeks of starting the eight-week program, playing tympani and other percussion instruments in two orchestras, he had fallen totally and deeply in love with classical music. He was completely immersed in music for hours of every day, associating with kids who were as passionate about music as he was. One of his cabinmates was to become his best friend for all time. It was a magical experience.
As I watched Tyler grow and develop through that summer, I bemoaned the fact that I hadn't had similar opportunities. Sure, I went to a one-week music camp for one or two summers, but it was absolutely not the same thing. I never found myself the way Tyler was able to find himself at Interlochen.
I frequently thought how different my life would have been, "If only my parents had known about Interlochen and sent me there" (or some equivalent place). But my mother was a devout Seventh-day Adventist, and she would have never.ever.in.a.million.years have sent me to a secular institution or any place that didn't observe the seventh-day sabbath.
I visited IAC again last summer on family vacation with Tyler and my grandchildren. Twenty years had passed since my last visit. I was thrilled to be there. Tyler's life partner, who was working as a choreographer in the theatre department, said to me, "Why don't you apply for a collaborative pianist position. They can never find enough accompanists." Her words started the whirlwind in my head.
By jove, if I can't have had the childhood I wanted, I'm going to rewrite my history. I'm going to have the childhood I wanted, now!
And today I received the email telling me I had been accepted for a collaborative pianist position in the theatre department. I will go to Northern Michigan in late June and return in early August. Six weeks surrounded by creative people—music, visual arts, sculpture, photography, creative writing, dance. Six weeks walking among the white pines in Interlochen State Park; six weeks hearing young musicians' dulcet tones emanate from every practice room; six weeks of gratitude for the gift of music with which I was born.
Lucky. Lucky. Lucky. Lucky. Lucky.
I'm going to create beautiful music with talented young people in one of the top arts organizations in the entire world.
It's never too late to have a happy childhood!