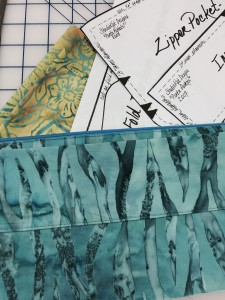 I'm sure you're tired of hearing me say how overfull my schedule is. But I miss having hours on end to just tunnel into my basement hidey-hole and sew my heart out.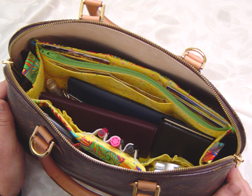 So in this overbusy time, I snatched a few minutes to cut out and begin sewing a Porta-Pockets Purse Insert from StudioKat. Michele [Lepore-Hagan for State Representative] gave me a fabulous bag from her sister's handbag line to thank me for all the work I've done on her campaign. I have never loved a handbag as much as I love this one. And I've never had such a capacious bag – 10″ x 13″ x 6.5″. One can carry lots of stuff in a bag that size, but one can also cram a bunch of stuff haphazardly in a bag that size. I find that I am the latter type of person.
That's the why of this latest project. The annoyance, though, is trying to do thing quickly, as I was doing in a fifteen-minute sewing break on Sunday night. I fused the interfacing, then sewed the next four steps in the construction, at which point I realized I had put one pocket in upside down.
I spent the next fifteen minutes bent over the project with my seam ripper in hand.
My lesson learned is to move more slowly. If a fifteen-minute sewing break means only one step is accomplished—rather than four—so be it.
Don't you love those fabrics? The stripey batik has been in my stash for over ten years, and I just discovered it again while mining for fabric for this project. I'm really going to enjoy the finished product!