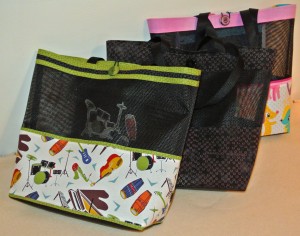 "Marcy's Coat" has been put on hold for a couple of days while I attend to higher priorities. This particular higher priority was mandated by a baby shower I will attend on Sunday.
The new-mom-to-be is a chorus colleague of mine. She's been dealing with a lot of physical pain unrelated to the pregnancy, and feeling much stress related to the confluence of pain and pregnancy. I suggested I teach her to knit as a method for reducing her stress. As much as she wants to sign on to this plan, our calendars prevented our getting together during the past few months.
As I tested a few patterns to find one suitable for teaching a beginner, I began amassing some articles suitable for a new baby and mom. The most special of these is the bulky baby blanket. There are also three burp cloths and a cushy little rectangle of a baby blanket that will be nice to lay under the baby in a car seat or similar unsoft surface.
As I thought about presentation, it occurred to me that the ideal way to present these hand-knit items was in a hand-crafted bag.
I love Nancy Ota's "Screen Play" bag. Since I discovered this pattern in early 2004, I have probably made 25 or more of these bags. The screen that's referred to in the title is Phifer Pet Mesh screening. It's a vinyl-coated polyester mesh designed to withstand being snagged by pets' claws. It's strong and lightweight, and can be sewn through easily. (I buy it at Home Depot by the 84″ roll, but the first link in this paragraph takes you to a store that not only sells Ms. Ota's patterns, but also the mesh in a variety of colors. The bag size I make most frequently requires a piece of mesh that's 18″ x 31″. I straighten out the roll and cut it down the center, cutting 31″-long pieces, which gives me material for four bags, plus some left over to make little zippered pouches.)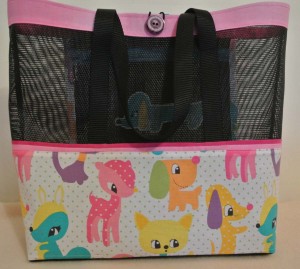 Ever the overachiever, I made three bags in the past couple of days. The first is the gift bag for the baby shower. The new mama and daddy have two dachshunds, who figured prominently on the shower invitation.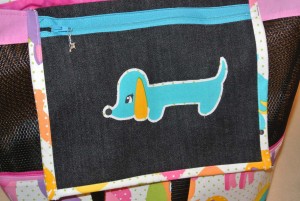 So of course I went cybershopping for quilting cotton featuring dachshunds. Panels of this fabric were stitched onto the screen on the front and back of the bag.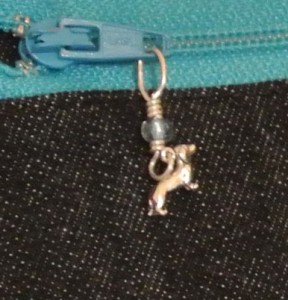 The basic bag pattern suggests the sewist can add pockets, if desired. I always include at least one pocket, usually zippered. I "fussy cut" one of the dachshunds from the excess fabric, fused it onto the black denim pocket, then stitched around the dog to add suspenders to my belt.
And I like to add some theme-related zipper pull. I was able to find a dachshund charm on eBay, which I wirewrapped onto the zipper pull. How sweet is he?!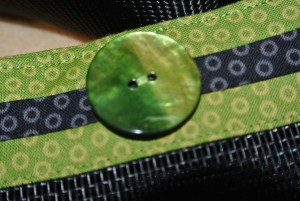 Bag Number Two was inspired by a Cleveland Orchestra Chorus fundraising concert to be held in January, featuring Joella Jones, our wonderful accompanist, and some of her colleagues from the Cleveland Orchestra. We were asked in rehearsal last week if we would start accumulating suitable items to be assembled into baskets for the silent auction. I made a similar bag three years ago for another COC fundraiser, and it was highly bid upon. So here we go again.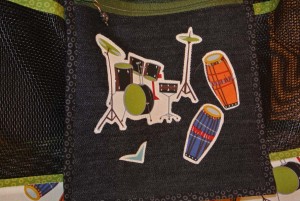 This is a music-themed fabric I picked up a while back, tucking it into my music-fabric drawer. (Yes, I have just such a drawer.) There were two coordinating fabrics I got in the same order, which I used for the top strip. (Look at how easy eQuilter makes it to find coordinating fabrics – see the "Related Products" button? Brilliant!) I cut out a few of the instruments from the fabric and fused/stitched them to the black denim pocket, then dug into my bead stash to find a couple of beads to add to the zipper pull.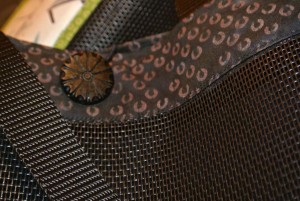 And then, since I already had the mesh cut, I thought I'd see if I could quickly make a third bag. Every time my sister-in-law and I have gotten together for the past several years, I've been toting something in one of my bags. Each time she would admire the bag; each time I'd say, "I'll have to make one for you one of these days." Enough already. This is one of these days.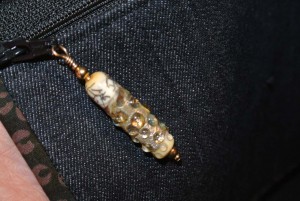 I picked up a piece of Bali batik that was stashed. I totally love Bali batiks, finding the fabric to be very substantial, but also to have an ultra-smooth finish. This was a simple bag, as my sister-in-law is a conservative, elegant lady. Nothing cutesy in her wardrobe—just timeless classics. I used the same batik for the lower and upper bands, and left the zippered pocket unadorned except for binding in the same batik. For the button closure, I dug into my button box and found an antique black button that I thought looked lovely with the batik. And the zipper pull? A treasure. This is a lampworked bead I made about 10 years ago. It's big and chunky, adorned with gold leaf and little bits of steel wool, topped off with drops of clear glass. I don't often give up the beads I made, but a special lady and her long-awaited bag deserve a very special zipper pull.
Tomorrow I'll tell you about the blanket I finished knitting today, then I'll go back to my new coat and see if I can get it finished by Monday.
The clock is ticking …!
---
If you're a PatternReview member, here's my full review.