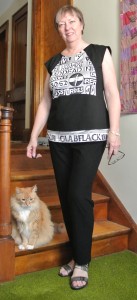 (Fit, that is.) About a month before the beginning of my ill-fated "career" at the Bernina store in Boardman, OH, I visited the second store Joyce owns, located in Twinsburg, OH. She had told me of picking up some fashion fabrics at the recent quilt market from the back of a truck in the parking lot and I had to see what she had bought. One piece caught my eye. It was several shades of gray, along with black and white, and was covered with words. It appeared to be a polyester, which I tend to shun, but had a very nice hand to it.
I seem to have been smitten by fabric with words lately. I got one piece from Emma One Sock for a Katherine Tilton t-shirt. The other came from a department store fabric department in Frankfurt, Germany. Another Katherine Tilton top.
So when I saw this piece in the Twinsburg store, I didn't look at the words at all, didn't attempt to decipher or translate. I just grabbed it. The longer it sat in my sewing room, percolating, the more I wondered what the words were/meant. Would I wear it and some kid point at me and snicker? But after a little digging yesterday, I now think it's a tip of the fashion design hat to Stephen Sprouse. I guess I can say I'm in my punk phase when I wear this top.
Here's the review: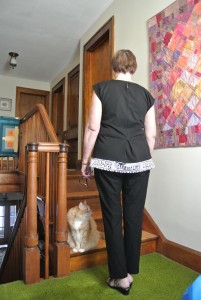 Pattern Description: (From the pattern envelope:) This is a great top for all occasions. The slight cap sleeve is very flattering and the back inverted pleat give this top a point of difference.
Pattern Sizing: 4-30. Note that hardcopy StyleArc patterns are one size per envelope. I looked at their size chart and ordered a 14 in several patterns. The first one I made was way too small. (My high bust is 38″, but I'm a DD cup, so think I should have bought 18.) This pattern is designed for wovens, so I made it in a knit to get around the sizing problems. Success!
(StyleArc now has an Etsy shop where most of their patterns are available in PDF. Three sizes are included in the PDF – yea!!! And there's no shipping-from-Australia fee – double yea!!)
Did it look like the photo/drawing on the pattern envelope once you were done sewing with it? Yeah. Sort of.
Were the instructions easy to follow? StyleArc's instructions are summary, not detailed! And the illustrations are minimal. So you've got to know what you're doing or have a sewing friend you can call upon for help. Or hope for a review in PR! 🙂
What did you particularly like or dislike about the pattern?
Like: The design lines on the front are interesting. Additionally, the peplum skirt is nice in that it's not all flippy and twirly for this non-girly-girl. I like to cover my hips, not accentuate them.
Dislike: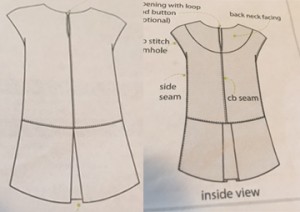 1) The markings on the back inverted pleat aren't clear enough with the five notches. You must bring both the outside notches to the center. Notches #2 and #4 just indicate where the fold will be. The illustration on the front clearly shows this. However, the illustration on the back led me to believe I was to bring #1 to #2, and #5 to #4, just using #3 to align to the center back seam. I searched PR and looked at everyone's photos, but still didn't have a clear image of what I was supposed to do.
2) Step #5: "Join the centre back seams together. If opting for a back opening stitch up to the notch attaching the loop onto the left side."
(Please forgive me. I'm a technical writer and editor. This was totally unclear to me!) There's a comma missing after "notch". The loop should be attached at the top of the back left side, about 1/2″ down from the top. Baste in place, then catch in the center back opening when you attach the facing.
3) The armhole finish was a little awkward. You finish the shoulder seams, then turn the edge under 3/8″ and topstitch. But to where? And then how do you finish the side seams when you've already finished the armhole? As I was doing the side seams (next to the last step!), I unsewed an inch on the front and back of each armhole, stitched the side seams, then turned the armhole under again and redid the topstitching on the 2″. I like my insides to look as nice as my outsides, but this finish doesn't allow that.
Fabric Used: The inset is a polyester picked up from a jobber. I ordered a yard of black ponte from Emma One Sock for the body of the top. (4-way stretch rayon blend ponte – black) The ponte is not heavy, but this pattern really wants something lighter.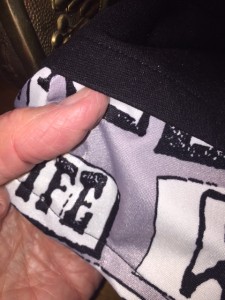 Pattern alterations or any design changes you made: I am 5'8″ and have recently figured out that most patterns are drafted for 5'6″. I normally add 2-3″ to the torso, but didn't do that here. It was too short so I cut a 4″ band of the poly, attached it to the bottom cut edge, turned up the regular 5/8″ hem and topstitched, then turned up the poly bottom 1/2″ and topstitched. (This is a technique borrowed from Katherine Tilton in B6101 (My blog post on B6101)). (Click on photo to enlarge.)
One more note on knit vs. woven: I made the facing, using the poly to make it lighter. However, if you're using a knit rather than a woven, consider sewing the back seam to the top, omitting the opening with the loop and button. The neckline is large enough to fit easily over your head. Then use a strip of your knit to bind the neckline and armhole – either letting it show on the outside if you want to make a statement, or turning it to the inside and topstitching. I think you'll be much happier with this finish.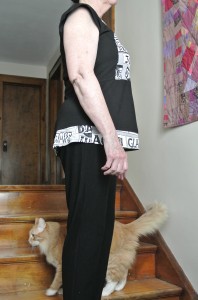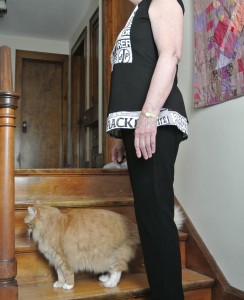 And one more note on fit: When I first put the top on, I thought the right armhole gapped in the back. Turn to the right, turn to the left. Gap; no gap. I thought there was no way to fix it and didn't know what I was going to do. But once it was completed, I don't notice the gap so much. So my word to the wise on this one is to not jump to conclusions. (And what is Rudi looking at?!)
Would you sew it again? Would you recommend it to others? I will probably make it again, in a knit, and cut the skirt/peplum 3″ longer to begin with. Yes, I would recommend to others—just read all the reviews first!
Conclusion: A cute top. Make it in two coordinating fabrics to accentuate the bodice front design lines. Or insert a bias strip of coordinating fabric in those front seams (ooh, how about a mesh?) if using only one fabric.
---
Styling has so much to do with how a garment feels to you. I was wearing my Eileen Fisher skirted leggings (which I love-love-love) when I finished this top. It was 0° outside and I had just returned from a business lunch. I pulled off my sweater, slipped the top on, stood in front of the mirror, and stuck my tongue out. Frumpy-dumpy! Pulled off boots, pulled off tights, pulled off skirted leggings, pulled off t-shirt, put on Eileen Fisher stretch crepe slim ankle pants and fave Naot sandals with the new top. Took picture of icy window and snow outside to let you know the sacrifice I was making. Looked in the mirror and LOVED the outfit. (BTW, we're getting eight more inches of snow today. Ugh. But at least I'm not in Boston or New England! Sending lots of moral support to those people!!)
And regarding the title of this post. The entire time I was cutting and assembling to the point where I could try it on, I kept saying, "This is not going to fit." I thought I would have to send it to my DIL-Equivalent, the lithe and lovely Leslie, who is the same height as I but one size smaller. I agonized over this, as I loved the poly wordy fabric. But then I basted the side seams and put it on and cheered!
Now I'm going to be looking at all those StyleArc patterns I bought in the wrong size to see which are designed for wovens and can be made in knits to save them.
And Leslie's loss? Well, I'm making her a pair of yoga capris and sending a dress for her 4yo Miss C. Saved again!!