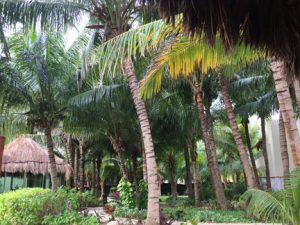 Let the record show that I wrote the first few sentences of this blog post on January 2, 2017. Today is March 1. Vacation and a Sondheim Revue at the local playhouse and two Saturdays of playing for auditions for incoming freshmen at Youngstown State University and preparations for the April YSU opera performances have kept me very busy.
So let me begin again:
If you've read my posts around any vacation, you know that vacation for me means the necessity for new MeMade clothes. Tonight I finished the second piece that will go in my suitcase. So far I've done the Liberty top from the Sewing Workshop, and Marcy Tilton's Vogue 8582, in my third make of that pattern. As soon as I sewed the final stitch, I cut out a third iteration of the Sewaholic Renfrew top.
I won't write a full review of each of these makes, as that was two months ago. At mid-60s, my brain doesn't hold details that long. I'm thankful for our ability to snap photos anytime and anywhere nowadays. Pictures are the great memory-jogger.
First make – Liberty
I love to pick up unique fabric when I travel—fabric that I've never seen in the States. On a trip to Rome in the early 2000s, maybe 2002, I quickly visited a fabric store on our last day in the city and was delighted with the shoe-print silk charmeuse I saw. The shoes look like little Persian slippers, what Anna and the King of Siam might have worn. The shades of rust and mustard and blue were wonderful together, and I grabbed a couple of metres. Fifteen years later, when digging through my stash, it called out for me to let it out of the stash so it could go on vacation with me. And to cut into a fabric so precious, I needed a tried-and-true (TNT) pattern—the Liberty Shirt from The Sewing Workshop.
A little over two years ago I made my first Liberty and loved it. Here's that post. As I prepared the pattern for this make, there were two changes I wanted to make.
Length. As I wear skinny pants most of the time (the years have been kind to my legs), I prefer longer tops. I had added 2″ to the length of Liberty the first time around. This time I added two more inches. I am very happy with the resulting look.
Sleeve finish. The sleeves on this top are about full length with about a 2″ opening at the hem along the seam (the inside, toward the body), with no cuff. Meaning, if you reach across your dinner plate to pick up your roll from the bread plate, your sleeve opening picks up some marinara sauce to then drip across your shirt front and onto your pants. Everytime I have bought or made a shirt with such a sleeve finish, it has been faced and the opening was opposite the seam—on the outside of the sleeve, not the inside. I made a separate facing for the sleeve hem, made that design change, and I love it. I interfaced the facing and roll it up once. Perfect!
What do I wish I would have done? The silk is slippery to cut. I knew this. And I knew pinning it to tissue paper or examining table paper would resolve the problem. I didn't pin. Learned my lesson!
Picked up a nice pair of slim navy ponte pants at Chico's that work very well with this top and several others. The look is finished with my Naot Sara sandals in Silver Threads leather. If you don't know Naot shoes, your feet will thank you to try a pair on. No break-in period. Put them on and walk across Europe without a single blister. Love. And even better, if the cork insole wears out, you can order a new insole for $30 or so. Makes their original price much more reasonable.
Second make – Vogue 8582
If you've read many of my sewing posts, you know I think the world of Marcy Tilton, as a teacher and mentor, as a designer, and as a friend. The garments and accessories she and her sister, Katherine, design are innovative and creative, and a joy to sew.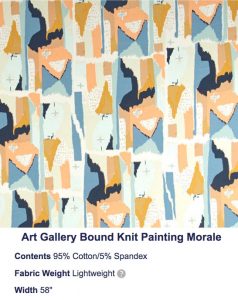 I usually buy a piece of fabric to coordinate with something that's already in my wardrobe. I cannot now remember why I bought this piece. I love Art Gallery fabrics, and I loved the colors of this piece. It was on Cyber Monday sale at Hart's Fabric in Santa Cruz, CA, a store with a great online presence. When it arrived and I pretreated the fabric by washing and drying, I was swooning over the hand of the fabric. Buttah! Soft as buttah! What better pattern to use? Another TNT: Marcy Tilton's Vogue 8582. (First make; Second make; Third make; Fourth make; and Fifth make. So this is the sixth time I've made this top.)
The fabric is out of stock at Hart's but you can find it at Fabric .com or on Etsy, or with a little skilled googling. Here's how Fabric .com describes it: "Designed for Art Gallery Fabrics, this lightweight stretch cotton jersey knit is perfect for making t-shirts, loungewear, leggings, children's apparel, knit dresses and more! It features a soft hand and about a 50% four way stretch for added comfort and ease. Colors include white, beige, gold, mint, coral and shades of blue." Ooh, leggings out of this? Yes, please.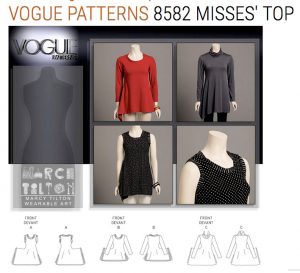 The pattern is out of print, but you can probably find a second-hand copy on Etsy or eBay.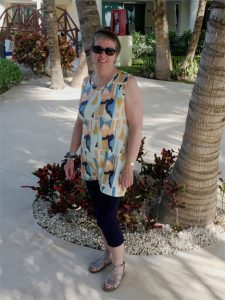 On this pattern, I never make the "waterfall" side. I am not a fan, so I choose the side of the front and back that doesn't have the extension and just cut on the fold. With most Vogue patterns, I add 2″ to the length. They seem to be designed for ladies who are 5'6″, so my 5'8″ height makes me want a little more length.
Styled with a pair of cropped navy ponte leggings I got on sale at Talbot's two summers ago, just before leaving for my summer as a collaborative pianist at Interlochen Arts Camp. The shoes are my the same Naot Saras as with the previous garment.
Third make – Sewaholic Renfrew Top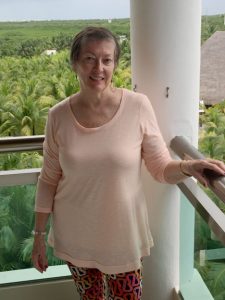 A friend of mine has started selling LuLaRoe clothing, and I try to help out my friends when they begin ventures such as this. So I bought a pair of leggings way out of my normal style comfort zone. I wanted a top to go with it, but was having a hard time finding the exact pale coral shade I wanted.
When I received this peach cotton jersey knit from Hart's Fabric (on Cyber Monday sale), I was thrilled. The color was perfect and the fabric easy to work with. Here's how Hart's describes it: "This lightweight jersey knit slub in peach is subtly sheer with a good stretch. It would make excellent infinity scarves or cardigans. Even a light tank top!"
As you can see from the photos, it's a very sheer fabric. I wear a long off-white tank under it. Honestly, if I were to make a tank top out of this fabric, it would have to be a double layer. A single layer of this fabric without a tank under it would be far too revealing.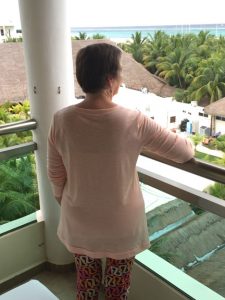 I have a favorite t-shirt that I purchased from Garnet Hill before last summer's vacation, and after my first Sewaholic Renfrew top, I realized that pattern was the perfect design to modify in trying to reproduce the Garnet Hill top. I made my second Renfrew with the changes for that make, but evidently didn't write a blog post. For this peach top, I used the same pattern modifications and cut it about three inches longer.
I laid the top front pattern piece on the fold, with the neckline center front right on the fabric fold. Then the hem center front was inset 1″ from the fold. For the first one I made, I cut the hem 2″ or 3″ longer. Then this one was cut another 3″ longer than that. Maybe even longer. Remember what I said about not being able to remember the details?! Anyway, it's a length I like with leggings, so I don't look like I'm trying to be a teenager again. And it doesn't reveal any part of my anatomy that I'd rather keep hidden.
---
All the pictures were taken at the wonderful all-inclusive resort, El Dorado Maroma, in Quintana Roo, Mexico. We loved our vacation, and will go again at the next opportunity. Here's that blog post, if you're interested.