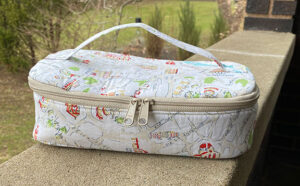 Everyone I know is hungry to travel. I snuck in a quick trip to Orlando at the beginning of YSU's Spring Break, flying on Friday and Monday, enjoying the warmth and sunshine on Saturday and Sunday.
<Jan, I don't care who you saw or what you ate. I'm only here to see the Hackney Pouch.>
I stayed with the elder of my two brothers and his lovely wife, whom I have admired since I first met her when she was 17 or so. The middle brother and his wife drove up from Tampa on Saturday morning and we all went to lunch at Seasons52. Now I'm wishing there were a Seasons52 anywhere near me. We (minus the Tampans) ate several meals at Broadway Ristorante & Pizzeria on 434 in Longwood. This is my elder brother's "Cheers." Everybody knows their names. Sunday morning, while my brother was waiting for the screen repair guy to arrive, his wife and I drove up toward Heathrow and ate at Peach Valley Cafe. That's another place I'd like to visit again. "Two orders of Very Berry Stuffed French Toast, please." I've never eaten mascarpone cheese and known what it was. Now I want to research recipes using mascarpone. That was one delicious breakfast. And on the other end of that scale was the breakfast I had the next morning and didn't enjoy at Bahama Breeze in the Orlando airport. Really, how can one kitchen screw up avocado toast and scrambled eggs?! Oh, and the meal the night before at Bar Louie near my airport hotel. I jump at any opportunity to eat at Bar Louie in Beachwood when I take a shopping trip to Nordstrom on the east side of Cleveland. But in a situation where trying to hire any experienced waitstaff during Covid times is probably to blame, there was no hostess when I entered. The person I flagged down said, "Just sit anywhere." Bad idea. I sat on the patio to enjoy the Southern breezes before heading back to frigid Northeast Ohio the next morning. And I sat. And I sat for over 15 minutes before going inside to try to find anyone to take a drink and appetizer order. I was so disappointed in the service, I don't even remember what I ordered, except a large glass of chardonnay.
By the way, the whole trip wasn't made just to hang out with family members, although I hadn't seen the middle brother and his wife since our mother's memorial service in the summer of 2016! That's just too long. So why this trip at this time?
I went to a Seventh-day Adventist elementary school. We attended from first through eighth grades, and had one teacher (plus band, choir, and 6th grade home ec) for each of the eight grades. My class was lucky enough to have Mr. George Pickel for both seventh and eighth grades. Then the class behind us, who graduated in 1965, had him for eighth grade after my class of 1964. He was young and energetic and loving to us. What a great teacher! After the graduation in May of 1965, he and his wife and two small sons (one of whom was delivered by my daddy), moved to California where he became the principal of an Adventist school. In the past year, one of the members of the class of '65 happened to learn he had been widowed some years back and was currently living in south Florida with one of his sons. She spoke with him at length and was touched to learn how well he remembered all the students in his two classes at Orlando Church School. And a party was planned, which coincided with my university spring break. I bought plane tickets and consulted with my brother about playing the piano for the Sabbath service at the small church he attends near my high school, Forest Lake Academy. And I arranged time for a quick glass of iced tea with a college suitemate who lives in Lady Lake. I packed a lot into that short visit, and had a ball. And, as an added bonus, I got warm for a change! On my way from the party, in Mount Dora, to my hotel, I stopped by Greenwood Cemetery to visit my birthmother's grave. When I visited there four years ago, I was surprised to see that neither her nor her husband's graves had headstones. My sister, Debbie, and I arranged for a headstone for Gertrude's grave, and I contacted the Department of Veterans Affairs to have a marker made for the grave of her husband, a United States Navy veteran. This was my first trip back to Orlando since the markers were put in place. It was an absolutely blue-sky gorgeous day. I finished my nostalgic trip by driving around Lake Eola, and remembering many walks in that space.
---
During the week I was preparing for this trip, I made time each day to sew. Here's the report of that project: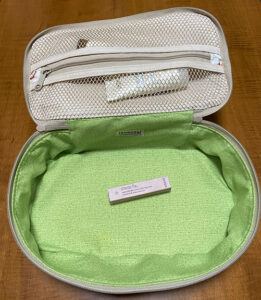 As I type this on my laptop, I have FlightAware.com open on my iPad, watching the progress of my younger son and daughter-in-law, for whom this pouch was sewn, as they head back home to Amarillo from spring break in Germany.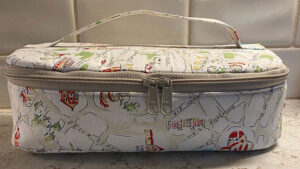 All my kids love to travel as much as I do, and take every opportunity to do so. My DIL, a university dance professor, travels frequently for work, when she is asked to come choreograph for a dance company or present at a conference. And then there are her summer gigs at Interlochen Arts Camp. She has need for pouches such as this to store her small travel items so nothing gets lost. One of the things I love about the Hackney Pouch is the zippered mesh pocket in the lid. See how I've tucked Aveda Foot Relief and Hand Relief Moisturizing Lotion tubes into the mesh pocket? And how about that little dispenser of Stress-Fix stress-relieving concentrate. For me, this pouch would be a stress reliever all on its own.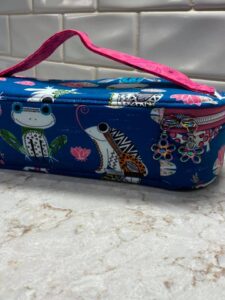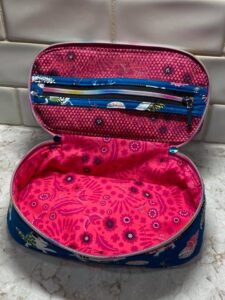 When Leslie and Tyler came to visit over New Year's, she was carrying her daughter's Hackney Pouch, size medium, which she had borrowed for the trip. That's when I knew she needed her own—size large. And because it was to be a travel bag, I knew exactly what fabric I would use. The exterior fabric comes from DearStella. This map print, Va Bene, is available from several Etsy sellers. The lining is Thatched, designed by Robin Pickens for Moda. The color is "Meadow." This is a fabulous lining and coordinate fabric available in a wide range of very matchable shades. I had a beige zipper that would match the beige mesh yardage in my stash, and not detract from the beautiful map fabric.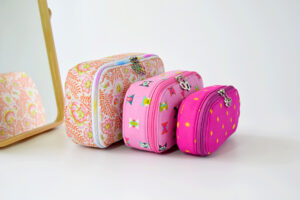 This is the third Hackney Pouch I've made. It's part of designer Sara Lawson's Minikins Season 3 collection of patterns. The minikins series all contain easy pouch and bag patterns that require a minimum of hardware pieces, so they're less expensive to make. They're all great as gifts or donations to charity events. And the patterns can be purchased with a tutorial video. Perfect for visual learners like myself.
This make was straightforward to me, as I had made it before. But one big change occurred to me, and I'm so glad I was paying close attention at the appropriate time. The center back panel, the top, and the bottom all have a piece of stabilizer inserted after they are sewn, but before the opening for turning is sewn closed. I tend to stock up on stabilizer, foam, fleece, and interfacing that I use on bags, hopefully avoiding a last minute rush to JoAnn's when I want to crank out a quick gift. Years ago I had bought a couple of yards of Pellon's Peltex stabilizer and had used it in the previous two Hackneys I made. But this time I watched the video and read the instructions carefully, and realized Sara Lawson seems to prefer Pellon's Deco Bond or Decovil heavyweight fusible stabilizer to give the right inner support to the top, bottom, and back of this little bag. I made a quick trip to Joann's and got the Decovil. Once I had cut out the pattern pieces, inserted and fused them in place, I was so glad I had really read the instructions this time. What a difference! What a nice finish to this gift.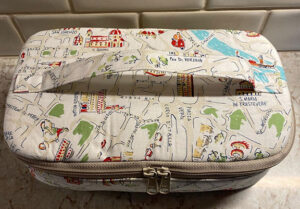 I had hoped to have this pouch finished before Tyler and Leslie left for their trip to Germany. That would have worked if they lived here. Alas, travel time to Amarillo for a travel bag is not overnight without wasting a ton o' money. I'll ship it to her on Monday, and she can tuck it away, ready for her next trip.
I've been looking for an opportunity to cut into this Va Bene fabric, and so happy this project came along.