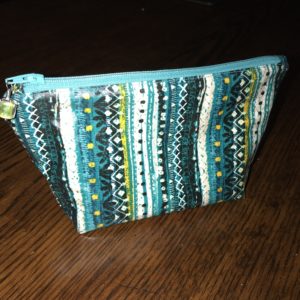 I've been hearing about Odicoat in several Facebook groups recently and decided it was my turn to try it. I actually ordered a container before I had the water leak in my sewing room about six months ago. When I moved everything out to get the plumber in, I somehow misplaced the jar. When I realized there was no way I was going to find it during the school year (i.e. lack of time), I ordered another off Amazon. Here's the link so you'll know what I'm talking about. Odif coating
Sidenote: There are two products I see on Amazon, and I can't tell if they're the same thing in different containers, or what the deal is. The one above is what I got. Here's the other one.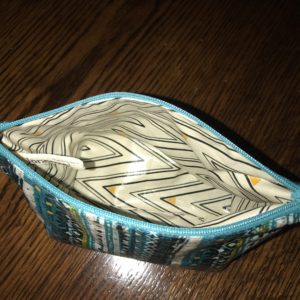 I make a lot of Sew Sweetness bags. The owner and designer, Sara Lawson, creates frequent videos for her thousands of followers. (Her Facebook group currently has more than 45,000 members!) She recently created a video explaining what Odicoat is and how to use it. If you're interested in experimenting with Odicoat on your own, you might like to watch Sara's video.
I treated some fabric on successive nights last week after getting home from rehearsals. You paint three layers of the coating on the fabric, waiting at least an hour between coats. Per Sara's instructions, I painted the first one horizontally, the next vertically, and the last diagonally across the fabric. After the final coat, you wait 24 hours before pressing. I think I waited 48 hours. You wrap the coated fabric in parchment paper to press it.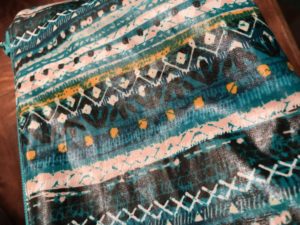 A close-up look at the treated fabric. (Also look at the lining fabric in the previous photo.)
When you're ready to sew, you cut it just as you would untreated cotton fabric. You just have to be careful with pressing.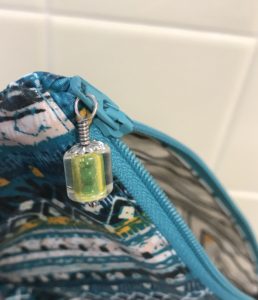 I made my favorite gift-in-a-hurry bag, the zipper pouch from the JediCraftGirl blog tutorial. This tutorial is my go-to for quick gifts. Thanksgiving is around the corner, and we're headed to Columbus to the Jazzman's niece's house for dinner. I need four bags to take along for all the ladies who will be here (plus a spare, so they can choose their favorites). So I killed two birds with one stone—experimenting with the treated fabric and making a waterproof cosmetic bag for one of the college-age great-nieces.
My zipper pull is a furnace glass bead. It has a large hole, so I slid three small turquoise beads on the head pin before adding the larger bead. The smaller beads inside the hole keep it from wiggling on the head pin. Pulls like this always make me happy I learned to wire-wrap while living in Tucson.