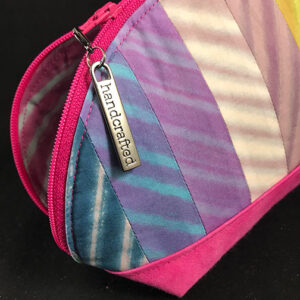 One of my closest friends during the second half of the eight years I lived in Tucson was a wonderful woman named Jill. We've kept in touch since I left, and occasionally she appears in my dreams and I wake thinking I need to go back for a visit.
Last week, in the midst of the COVID-19 self-isolation, I picked up a birthday card for her during a frantic grocery run. When I got home, I realized the envelope was not with the card. There was no way I was going back to the grocery store, into that anxiety-filled pandemonium. The solution was simple: I needed to make a little bag for her birthday.
But the bag needed to be made completely from my stash. My stash of fabric, hardware, thread, and zipper pull charms. Luckily, there's no shortage of any of those items in my sewing space!
My friend, MaryLou, hand-dyes the fabric that she uses to make her stunning quilts. You've seen her work before in my posts, here and, recently, here. I have a large container filled with this shibori, all in gentle, lovely shades.
I have not made the Sew Sweetness Persimmon Dumpling Pouch before, but have had the pattern pieces cut out, ready for the fabric inspiration or occasion to spur me on to make it. This was the perfect occasion!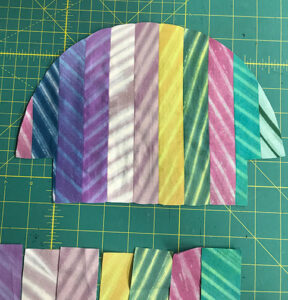 I cut out the strips for the piecing of the sides of the bag and laid them out on my cutting table before FaceTiming my sewing partner in Oregon. We moved strips around and discussed the pros and cons of various combinations. Once we decided on the best mixture of these lovely fabrics, I sewed the strips together and texted her the final result. Yummo! MaryLou does such beautiful shibori, and I totally loved these fabrics together.
Next, I needed to add a lower fabric to the front and back. I looked through my stash of cork fabric and chose one that was a deep blue with turquoise accents. I really like it, but cork fabrics are not all created equal. I've had problems with cork flaking after being folded and sewn, as with this bag. This particular cork looked like it might flake, so I took some blue and green fabric paint, mixed it together, and carefully brushed it onto the folded edge of the fabric. I let it sit overnight, and I stewed about it every time I woke overnight. When I woke in the morning, I knew the solution was to get rid of the cork and find some other fabric to substitute. I found a hand-dyed pink cotton, sort of bubble gum pink, that I thought went great with the pieced front, especially since the zipper I had chosen was a lovely deep pink. And when I finished sewing the panels on the front and back, I was very pleased. It was bright and happy, just like Jill. 😊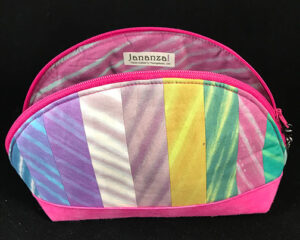 I hadn't been sure what I wanted to use for the lining until I saw the finished front and back. I dipped back into MaryLou's castoffs and found a bright pink/hyperpale pink piece large enough to cut the lining pieces, and before I knew it, the bag was finished. I grabbed the last of Emmaline's "Handcrafted" zipper pull charms from my hardware stash, and it was picture time. And then time to sit and wait for the shipped package to arrive in Tucson.
And last night an email arrived telling me the bag was beautiful. I'm so glad she thinks so. All that effort could not have been expended on a nicer person. 💖
---
Pattern: Sew Sweetness Persimmon Dumpling Pouch
Fabrics: MaryLou Alexander, not available for purchase
Accent Fabric: Hand-dyed cotton from an unremembered vendor in Tucson, sitting in my stash for 18 years.
Zipper: Etsy Vendor, Zipit
Zipper pull: EmmalineBags.com